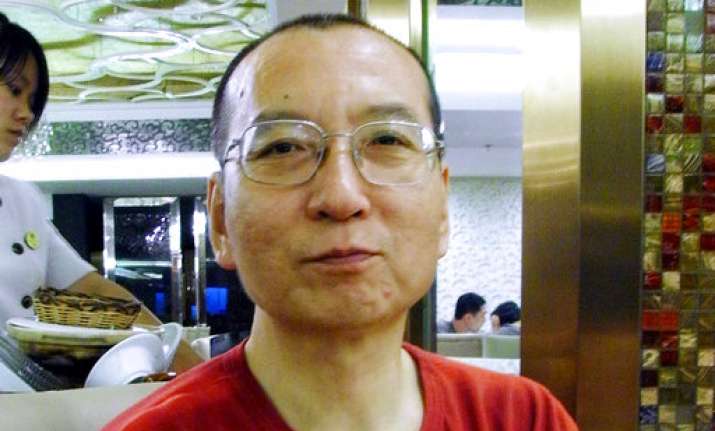 Describing departed Chinese "political prisoner" Liu Xiaobo as a "courageous advocate" who dedicated his life to the pursuit of democracy and liberty in the Communist nation, the White House today said that President Donald Trump was deeply saddened over his death.
 
Liu, who had spent more than a decade behind bars in China for his advocacy of political reform, including taking part in the 1989 Tiananmen Square protests, was serving a 11- year prison term for "subversion" when he was diagnosed with late stage liver cancer in May this year.
  
Beijing had refused to allow him seek treatment abroad despite Liu's wishes and international pressure. His death, of multiple organ failure at the age of 61 yesterday, makes Liu the first Nobel Peace laureate to die in state custody since Carl von Ossietzky in Nazi Germany in 1938.  
"President Donald J Trump was deeply saddened to learn of the passing of Nobel Peace Prize laureate and prominent Chinese political prisoner Liu Xiaobo," White House Press Secretary Sean Spicer said. 
"The President's heartfelt condolences go out to Liu Xiaobo's wife, Liu Xia, and his family and friends. A poet, scholar, and courageous advocate, Liu Xiaobo dedicated his life to the pursuit of democracy and liberty," Spicer said in a statement. 
Just a day before Liu's death, the US had called on China to release him from custody so he could see his family and pursue the medical care. 
Several American Senators also expressed their sorrow over Liu's death. 
"Today the world lost a hero of liberty and freedom," said Senator Ted Cruz, the Republican Senator from Texas.  "Ever since leaving the safety and comfort of America to lead the protests at Tiananmen Square in 1989, Liu sealed his fate as a persistent focus of persecution from the authoritarian PRC (People's Republic of China)," Cruz said. 
 
From 'reeducation through labour' and deprivation of property to unjust imprisonment and physical abuse, Liu bore the brunt of the Communist Party's wrath for daring to challenge their immoral system of political oppression, he added. 
Senator John McCain said the death of Liu in a Chinese prison represents an egregious violation of the fundamental human rights for which he spent his life. 
"Unfortunately, and as Dr Liu would have wanted everyone to remember today, this is only the latest example of Communist China's assault on human rights, democracy, and freedom," he said. 
McCain said that the Chinese government's delay in his treatment was the last "barbaric" violation of Liu's human rights. 
"The news of Liu Xiaobo's death today is beyond tragic for his beloved wife Liu Xia, for his family, and for the millions of supporters of his courageous efforts to champion human rights and democracy in China," said Senator Marco Rubio.
He said the Chinese government must give Liu's remains to his family and grant his wife an exit visa to leave the country. 
"There should be an independent investigation into the circumstances surrounding Dr Liu's death, his treatment in detention, the timing of the diagnosis of his late-stage liver cancer, and countless other questions that need to be answered, he said.
(With PTI inputs)