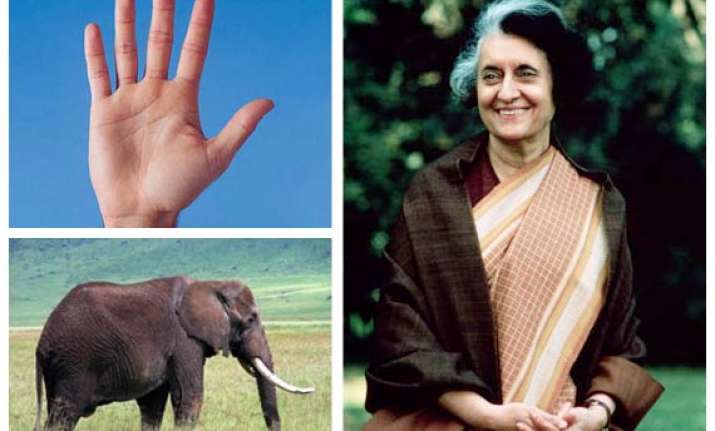 New Delhi, Jul 16: A book by a former Congress general secretary reveals how former prime minister Indira Gandhi mistook the election symbol  elephant  (haathi) for  hand (haath), reports Times of India.

The Hand became the Congress (I)'s election symbol after the Election Commission decided to freeze cow-and-calf (gai-bachchda), its earlier mark of representation in 1978. 

But few are aware how the party settled upon its new symbol. 

The just-released book details the hilarious conversation between three senior Congress leaders -- Indira Gandhi, Buta Singh and Narasimha Rao -- before the trio settled on the fresh   symbol. 

"Indira was out in Vijayawada, with Rao, when Buta was asked by the Election Commission to pick an election symbol. The choices were an elephant, a bicycle and an open palm. Buta was not sure which symbol he should choose, so he booked a trunk call to seek Indira's approval," says author Rasheed Kidwai in his book, 24 Akbar Road. He was the AICC general secretary then. 

"The line was not very clear or, perhaps, Buta's Hindi pronunciation was so thick that Indira kept hearing haathi (elephant), instead of haath (hand). 

"She kept saying no to it even as Buta kept trying to explain that it was not the elephant, but the open palm symbol that he was advising her to pick. 

"The comedy of errors continued till an exasperated Indira handed the telephone over to Rao. In a matter of seconds, Rao, master of more than a dozen Indian and foreign languages, understood what Buta was trying to convey. He shouted, "Buta Singhji, panja kahiye, panja' Indira was relieved, took the receiver and said, Haan, haan, panja theek rahega (yes, yes, the open palm symbol will be appropriate).' 

The book, which describes itself as "a short history of the people behind the fall and rise of the Congress, goes on to add, "Initially, the hand symbol was ridiculed. Some Congressman felt that it would remind voters of traffic policemen, but deep within her, Indira and her key associates were pleased because earlier critics had compared the Congress's cow and calf symbol to Indira and her son Sanjay." 

Peppered with several other interesting anecdotes on various Congress leaders, the book offers an interesting one on Suresh Kalmadi, currently in Tihar jail, who was known to throw lavish parties. 

The incident is related to the "jockeying" for the post of prime minister among top Congressmen, Narasimha Rao, Sharad Pawar, Arjun Singh and Dr Shankar Dayal Sharma after Rajiv Gandhi's death. 

The book says, "Kalmadi took it upon himself to 'manage Delhi' for his Maratha strongman. A lavish dinner was organized at a five-star hotel to influence newly-elected MPs. As many as 64 MPs from various states attended the event. 

"This development sent shock-waves through the Congress, even unnerving an apolitical but not indifferent Sonia Gandhi at 10 Janpath. " 

The punchline is that "Narasimha Rao was so shaken that for the rest of his tenure he kept a copy of the guest list just to keep them out of any position of influence." 

The book also borrows amusing anecdotes from other published works. 

One such rip-roaring yarn is from Hanif Zaveri's book, Mehmood: A man of many moods. 

During his days of struggle Amitabh Bachchan had befriended comic star Mehmood's brother, Anwar Ali. The two had even acted together in Bachchan's first film, Saat Hindustani, and then again, in Mehmood's Bombay to Goa. 

The story goes that just before the release of Bombay to Goa, Amitabh had brought a very fair young friend to Mumbai. 

"The friend had accompanied him to from Delhi. Mehmood was on a high after taking Calmpose tablets, a drug to which he was addicted. Anwar introduced the young man to Mehmood, but in his state, he was unable to understand what was said. 

"Mehmood took out Rs 5,000 and handed them to Anwar to give to Amitabh's friend. A puzzled Anwar asked what the money was for. Mehmood said the young fellow was fairer and smarter than Amitabh. He could become an international star. The money was the signing amount for taking the young man in Mehmood's next project." 

Anwar then reintroduced Amitabh's friend to Mehmood. He was Rajiv Gandhi, prime minister Indira Gandhi' son. Mehmood quietly took the money back. Both Amitabh and Rajiv had a good laugh, the book says.