Follow us on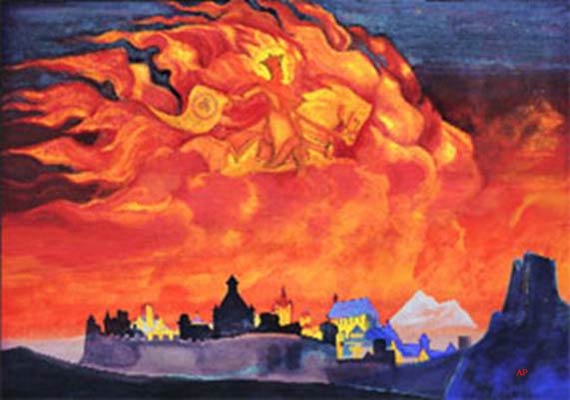 New Delhi, Oct 9: Two paintings  by Russian painter Nicholas Roerich, stolen from the Indian Agriculture Research Institute (IARI) in New Delhi surfaced at a recent exhibition-auction at London. The paintings had mysteriously disappeared from the IARI premises, reports Indian Express.CBI is now probing how the IARI paintings landed in London, the report said.

The picture given here is  Nicholas Roerich at his best. It is The Master at his best: Saint Sophia the Almighty Wisdom, 1932, Nicholas Roerich Museum, New York, USA
In fact, the institute realised that the paintings had been stolen from their premises in New Delhi only when they were contacted by officials in London. The institute received information that the two paintings had been auctioned for $2 million at an exhibition.

The rare works were painted by the Russian artist on his first India visit in 1923. Roerich's spiritual journey had brought him to India—and to Kullu where he set up the Institute of Himalayan Studies 'Urusvati'.

His family, too, moved to India where he continued to live until his death in 1947. His son, Dr Svetoslav Roerich, also a noted painter, married the actress Devika Rani.

IARI director  Hari Shanker Gupta, said: "We are still examining our records to find out the date the paintings came to the institute. It was recently discovered that two valuable paintings were stolen from our premises and auctioned outside India. A complaint has been lodged with the CBI and we are in the process of getting these paintings back to India."

The paintings depict the Himalayas. Central Bureau of Investigation officials say they have traced the paintings and are seeking the Interpol's help to get them back to India.

"The case was registered recently by the CBI on the complaint of the IARI. The probe so far has established that the paintings were smuggled from India," said an official.Suspecting the role of an insider in the theft, the agency has examined the staff at the IARI and sought the details of all retired employees.