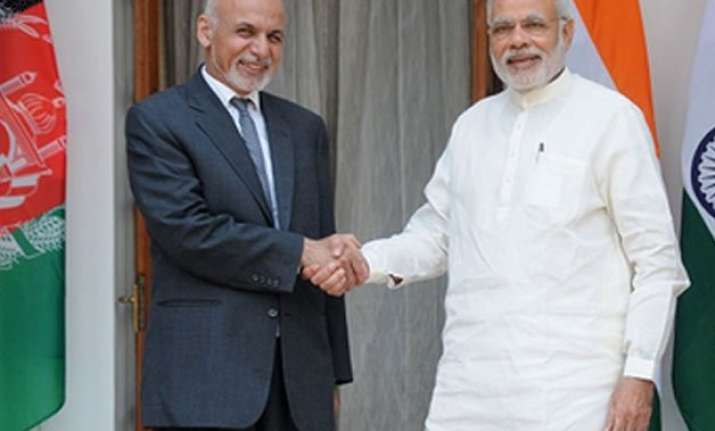 New Delhi: Afghan President Ashraf Ghani today reassured India that Afghanistan's relationship with it was "foundational" in nature and his government will continue to have close partnership with New Delhi.
There was some uneasiness in India over Ghani's Pakistan policy as he appeared to have taken a pro-Islamabad approach after becoming President of the war-ravaged country last September.
"President Ashraf Ghani reiterated Afghanistan's perspective on the foundational nature of  Afghanistan's ties with India, and the fact that India figured in four of the five 'circles' of Afghanistan's foreign policy priorities," said a joint statement issued hours after Ghani and Prime Minister Narendra Modi held wide-ranging talks.
Without naming Pakistan, both the leaders called on the international community to severely deal with the safe havens for terrorists that continue to threaten regional and global security.
It said the two sides reaffirmed their commitment to each other's unity, integrity and sovereignty while agreeing that their territories will not be allowed to be used against any other country.
Noting that there is no justification for acts of terrorism, the leaders expressed determination to work together along with the international community to combat and defeat the scourge of terrorism in all its forms and manifestations.
While underlining the strength of their bilateral relations, the leaders acknowledged that peace, prosperity and security in the region was indivisible, and their "mutually respectful relations" are not at expense of other nations.
The joint statement said Modi and Ghani reviewed regional security environment confronting both countries and reaffirmed their commitment to "patiently and systematically" work towards strengthening of the strategic partnership with a clear focus on the long term bilateral relationship.
Ghani and Modi also agreed to sign an extradition treaty between the two countries and another pact on transfer of sentenced persons within three months.
They also agreed to sign within three months the Motor Vehicles Agreement to facilitate greater flow of people as well as goods, and the Mutual Legal Assistance Treaty (MLAT) in Criminal Matters.
The two leaders have also decided to sign Bilateral Treaty for Mutual Legal Assistance in Civil and Commercial Matters.