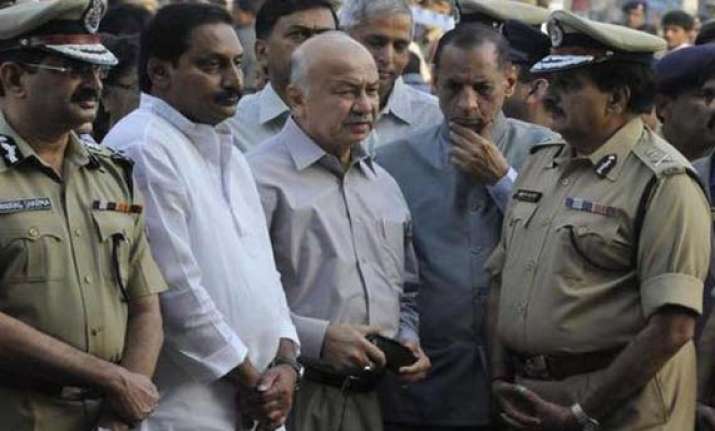 Hyderabad, Feb 22 : Union Home Minister Sushil Kumar Shinde today visited the twin bomb blasts site at Dilsukhnagar here even as the toll in the attack rose to 16.
Shinde, who reached Hyderabad by a special flight this morning, drove straight to Dilsukhnagar and went around the blast site.
Speaking to reporters, he said 14 people were killed in the blast and 110 were injured, six of them critically.
Investigation have begun and the state government has appointed a probe team, he said.
Replying to a query about inputs suggesting that a blast might take place in Hyderabad, he said there was no specific alert and only a general alert was issued to the states.
Asked about reports that suggested the involvement of terror group Indian Mujahideen, he said nothing can be said about it at the moment.
The Minister, who was accompanied by Andhra Pradesh Governor E S L Narasimhan, Chief Minister N Kiran Kumar Reddy and Union Home Secretary N K Singh, inspected the fast food centre where the bicycle bomb killed at least eight persons on the spot.
He then went to the bus shelter about 150 meters away where the second blast killed another six people and left many injured.
Shinde also spoke with officials of the National  Investigating Agency and enquired about the clues gathered from the scene.
The Union Minister later visited some hospitals where the injured persons were undergoing treatment.
Director General of Police V Dinesh Reddy briefed the Union Home Minister about the two blasts.
Two powerful near simultaneous blasts had ripped through a crowded area close to a cluster of bus stands in Dilsukhnagar area yesterday.
The blasts triggered by Improvised Explosive Devices (IED) tied to two bicycles took place at two sites 100 metres apart outside a roadside eatery near Konark and Venkatadiri theatres in the area located on the Hyderabad-Vijaywada national highway in Cyberabad police limits.
DGP Reddy had said it was "definitely the handiwork of a terrorist network" and IEDs were used in the attack.