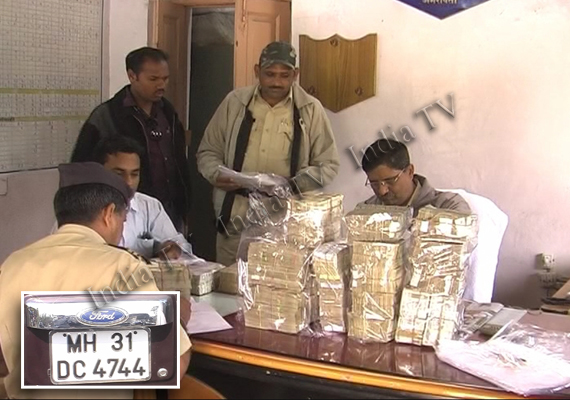 Amravati (Maha), Feb 14: Even as the Maharashtra Election Commission has taken a serious note of the recent seizure of unaccounted cash to the tune of Rs one crore, Congress MLA Raosaheb Shekhawat today said the amount was supposed to be distributed among financially weak candidates in the fray for February 16 civic polls.

"I had sought funds from the state Congress Committee for distributing them among 87 party candidates as most of them are women and poor. Accordingly, Rs 1 crore was sent to me which was to be distributed at Rs 1 lakh per candidate and the rest (of the money) was meant for the district Congress committee.

We had produced the official letter from MPCC and I too had given a letter to the police commissioner after he had asked for it," the MLA and son of President Pratibha Patil told PTI.

Police on Sunday seized the cash which was being transported in the city from Nagpur in a car and arrested two persons in this connection.

Expressing confidence that Congress would rout BJP at the hustings, Shekhawat said, "we would tomorrow claim the seized money from a local court as directed by the Commissioner of Police.

"Had the seized money been released to us after we produced the letters, it would have helped our candidates in electioneering. Now, even if we get it tomorrow, it would be of a little help," he said.

BJP, which is in opposition in the Congress-NCP ruled municipal corporation, alleged that Congress has put into circulation huge amount of money to influence voters.

"It was an unaccounted money and Congress tried to give an impression that it is accounted for, hours after the seizure...How much money Congress has pumped in before and how much it is going to pump in after ?" district BJP president Pradeep Shingore said.

The state election commission has already asked the district collector Rahul Mahiwal and municipal commissioner N. Navin Sona to inquire into the matter and file a report.

Maharashtra unit BJP president Sudhir Mungantiwar yesterday told a public rally here that his party had filed a formal complaint with the election commission in this regard.

The campaigning for Thursday polls is coming to end today evening.