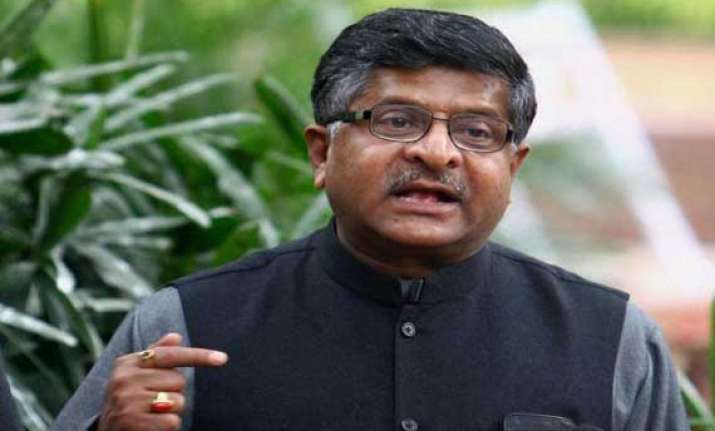 New Delhi: Government today announced that all past wrongs committed by any senior functionary in the government will be thoroughly probed and no one will be shielded.
"I want to convey that our Government is very keen that all these past wrongs must be properly investigated. The Government will fully support those investigations, and the Government will not shield anyone," Telecom Minister Ravi Shankar Prasad announced in Lok Sabha.
The Minister's statement came after AIADMK member M Thambidurai wanted to know what action government is taking against the alleged illegal establishment of a telephone exchange at the premises of former Telecom Minister Dayanidhi Maran when he was in office.
Prasad said CBI is investigating the matter and he would be able to inform the House about the progress of the probe only after collecting detailed information.
"When investigation is going on, it will not be appropriate for me to take up this matter here. As regards the other complicity of certain officers at the Departmental level, with regard to that transaction, I will surely get a report and I will furnish it," he said.
Earlier, raising the issue, Thambidurai said more than 360 illegal telephone lines were allegedly illegally connected to the house of Maran and these were used for the benefits of the Maran family-controlled Sun TV network in Tamil Nadu, Kerala and Andhra Pradesh.
He claimed that there were at least Rs 1,000 crore loss to the exchequer due to the "illegal" setting up of the telephone exchange.
Replying to another question, the Telecom Minister said the government has imposed fine to the tune of Rs 2,923 crore on various telecom service providers for not following the subscriber verification process strictly.
Of the amount, he said, Rs 732 crore has been collected so far while rest is under various stages of litigation.
Prasad said government will take strong action against any service provider who is not following the strict procedure of subscriber verification process.
Agreeing to Congress member Shashi Tharoor's suggestion that Telecom is a success story in India, the Minister said unfortunately it was in news for all the wrong reasons.
Prasad said steps are being taken to ensure that innocent people living in border areas, Maoist affected areas and militancy-hit areas are not harassed while following the strict verification process before granting the SIM cards.
"India is under serious security threat. There are problems in border areas. I have told my officers that we have to be strict while issuing SIM cards but at the same time we have to be sensitive towards the concerns of the people living in border areas," he said.