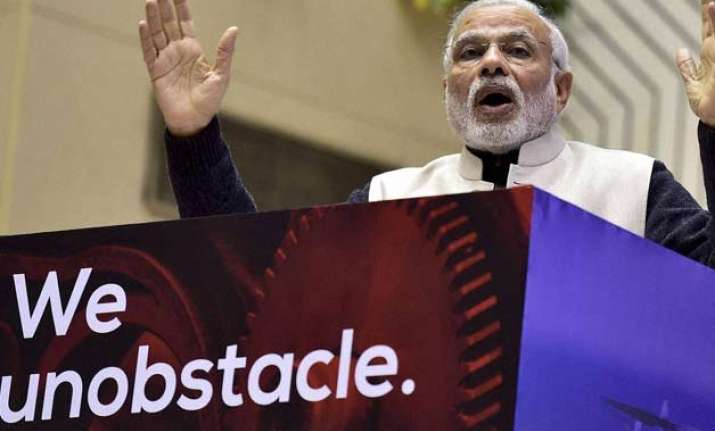 New Delhi: Prime Minister Narendra Modi today unveiled the government's 'Startup India Standup India' plan at an event at Vigyan Bhavan in the national capital. The programme aims to make a conducive atmosphere for new-age entrepreneurship and provide equal opportunities to all. 
Setting up of a corpus fund of Rs. 10,000 crore to fund startups, attractive tax incentives and minimum government interference constitute the major plans of the government to spur entrpreneurship in the country. "I had spoken about 'Startup India' from the Red Fort and today we are seeing it materialise. We are here so that you can tell us what we should not do," the Prime Minister said at the event in New Delhi. 
Speaking at the event, the PM also lauded the country's intellectual capital. "India may have a million problems but we also have a billion minds. When I say Startup India, I also mean to say stand up India. India is blessed to be a nation of youngsters. The kind of innovative India we are witnessing today is one of a kind," he said. 
Delving upon the idea of a startup and its relevance to India, Modi said, "This Startup India movement is not just guided by money or fame. The purpose is beyond that. Start up does not mean a billion dollar company where thousands work. It is about employing even five people and developing India. We need to bring in a psychological change in mindset of youths from that of a job-seeker to that of a job-creator."
The Prime Minister also applauded the efforts of those who had dared to venture beyond the conventional and stressed that they owed their success to their ability to take risks. 
"In the beginning when someone would have shared their plan to begin a start up, people around them would have discouraged them. But today, when those people have become successful, everyone has started thinking about ways to start their own startups," he said, adding, "people who have achieved this success today, they are not just entrepreneurs but are adventurous as well. Sometimes I wish God had given me capabilities like you people (startup entrepreneurs) have. 
"When I was listening to Ritesh(Founder,Oyo Rooms) I wondered why a 'chai wala' did not think of starting a hotel chain," he said in a lighter vein. Uber 'Kuber' ban gaya," he added, much to the amusement of the audience. 
The Prime MInister also promised to facilitate easier exit options for entrepreneurs and said the government will introduce a bill on bankruptcy in the parliament. However, in a dig at the Congress for repeated disruptions, he hinted that the fate of the bill would eventually depend upon the functioning of the House. "Baaki to aap sab jaante hi hain. I urge you to get on to Facebook and Twitter to get across the message to them," he said.
Here are the highlights of the government's plan for startups:
* Credit guarantee scheme worth Rs 10,000 crore for startups in the next four years. Funds of around 500 crore to be given every year. 
* Atal Innovation Mission to give impetus to innovation and encourage the talent among people
* Profit from start-ups established after April 1, 2016, to be exempted from Income Tax for three years
* No government inspection for start-ups for three years
* A regime promoting self-certification based compliance, including environmental regulation.
* Startup India Hub to be developed as a single point of contact.
* A mobile App to be launched to facilitate beginning a startup in one day.The App will have a small application form that can be easily filled for registration.
* Easier patent filing norms in the offing.
* Free patent filing planned. Patent fee reduced by 80 per cent.
* Relaxed norms of public procurement for startups.
* Faster exits to be facilitated for startups. Bankruptcy Bill to be introduced in parliament. 
* Increased participation of women in startups.
* Tax exemption on investments above fair market value.
* Core innovation programmes in 5 lakh schools.