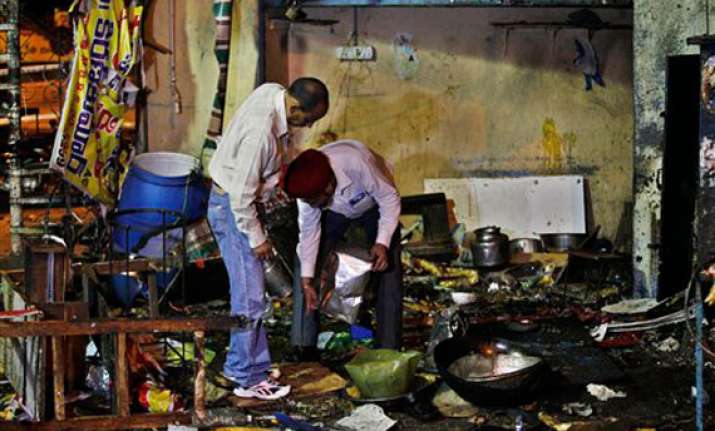 Hyderabad, Feb 22:  As the first blast occurred near a tea-cum-fast food centre diagonally opposite the busy Konark theatre area here around 1905 hours today, everyone first thought it was a gas cylinder burst.
By the time the impact was felt, there were at least five-six bodies strewn around in a pool of blood with footwear and other objects scattered all around the place.  Many others had sustained injuries while several vehicles parked there were either burnt or damaged.
In both cases, the explosives were fitted to bicycles and parked amid the bustling crowds.
Hundreds of people in the vicinity had hardly regained their senses when, in less than five minutes, another blast was heard just about 150 metres away at a crowded city bus stop close to Venkatadri theatre on the main road.
Here too, five persons were killed instantly as the bomb exploded.
The evening show had just ended in Venkatadri and a large audience was making its way out at that time.
The second blast spot has at least ten bus shelters in a row and, apart from scores of passengers, several small-time vendors would be doing their business on the service road.
It's normally difficult to find even a toe space around the Dilsukhnagar Bus Stand area in Hyderabad from early morning till late in the night, such is the flow of vehicular traffic and people in the area which is located on the Hyderabad-Vijayawada highway.
"The impact of the blast at the bus stop was such that interiors of two shops right behind it in a three-storied
building were badly damaged and left one person dead," an eye-witness said.
Dumbfounded shop-keepers and people around after getting to know what had happened started shifting the victims to nearby hospitals.