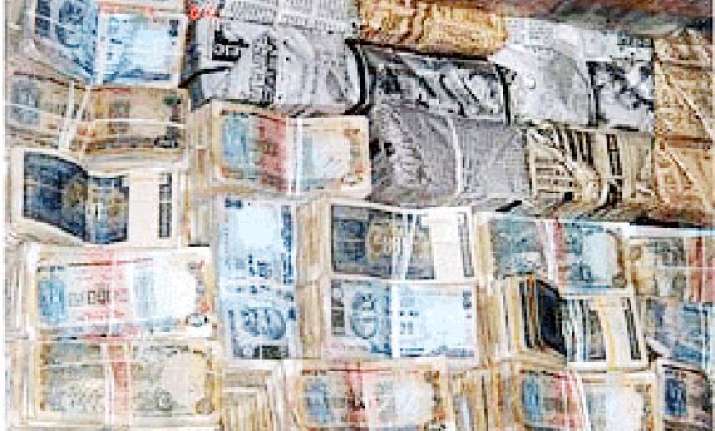 Chennai, April 20: Tamil Nadu police and election officials are still waiting for the claimants to come forward to claim the staggering sum of Rs.49 crore seized during Tamil Nadu elections  and the money still lies unclaimed.

Huge amounts of unaccounted money were seized by a flying squad consisting of officials of the Election Commission and the income tax department prior to the April 13 assembly polls in Tamil Nadu.

According to officials, a total of Rs.54 crore was seized during the raids, of which only Rs.5 crore was claimed back. There were no claimants for the remaining Rs.49 crore.

On April 5, Rs.5.11 crore  cash neatly stacked and covered with a tarpaulin sheet   was seized from the roof-top of a parked bus in Tiruchirapalli district.

Ahead of the Tamil Nadu assembly polls, election officials in the state have seized unaccounted cash amounting to Rs.22.68 crore and Rs.10.30 crore worth valuables

Returning officer S. Sangeetha and her team seized the Rs.5.11 crore cash covered under the tarpaulin sheet from the top of a bus parked by the roadside in Pon Nagar in Tiruchirapalli.

The bus is registered in the name of Jayaraman in Perambalur district.

"I got a tip-off at 1.40 a.m. giving me the bus number and its location. I went there with my driver, Central Reserve Police Force personnel, a police sub-inspector and a villager at 2.15 a.m.," Sangeetha said.  She said the bus was empty and "we found five bags carrying the cash under the tarpaulin sheet on the roof".

The cash was deposited in the treasury  on April 6. According to her, investigation is on by the police about where the bus was heading, the purpose of the huge cash on the roof top, and from where the cash came.

In another incident, the poll officials  seized a consignment of 350 dhotis and as many sarees.

Chief Electoral Officer Praveen Kumar said unaccounted cash amounting to Rs.22.68 crore and Rs.10.30 crore valuables have been seized by the flying squads till date across the state.