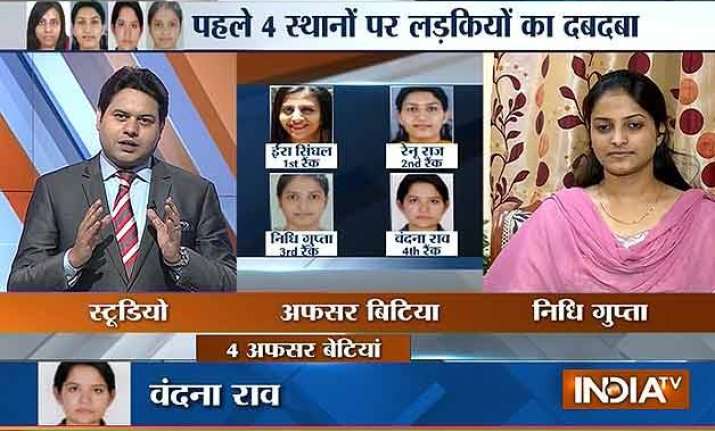 New Delhi: Nidhi is Assistant Commissioner of Customs and Central Excise and is presently undergoing training at Faridabad.
Speaking to India TV, third rank holder Nidhi said, "There is no fixed routine, but study with dedication, strong determination and time management is also important".
When asked  how candidates should prepare for the Civil services examination  the third rank topper said, "I just want to say to all the aspirants that  do not get tense". She also suggested that one should always discuss whatever they study during the day.
She further said "UPSC wants to know from the candidates why they want to join the civil services and for that it is very much necessary that a candidate should have a clear concept about it.
Nidhi also spoke about how the path from motive to motivation has to be done by the contestant and how it forms an important part while preparing for the exams.
She said, "Motivation are of two types, external motivation and internal motivation and it is very important that a candidate should be motivated from inside so that one can fully concentrate on their preparation for the exam.
The parents of Nidhi were very much happy with the success of their daughter and hoped that now Nidhi can fulfill the aspirations that she had.  We just hope that 'Nidhi does work
Third rank holder Nidhi said,"It is really a proud moment. I put in lot of hard work and finally it paid."