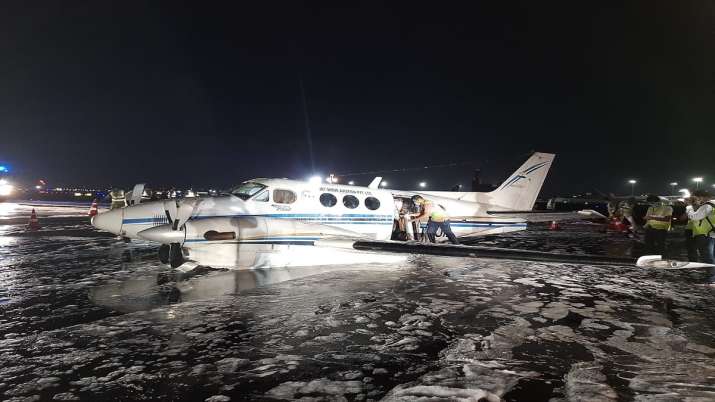 A full emergency was declared at the Mumbai airport for a non-scheduled Nagpur to Hyderabad flight on Thursday night.
A Jet Serve Aviation C-90 aircraft VT-JIL was operating an ambulance flight from Nagpur with a patient on board. The aircraft was diverted to Mumbai's Chhatrapati Shivaji Maharaj International Airport after it lost the front landing gear (wheel) while taking off from Nagpur.
The aircraft with a patient, medical team and two crew members landed safely on its belly at the Mumbai airport.
ALSO READ: Air India Express flight makes emergency landing at Kozhikode airport
Union Civil Aviation Minister Hardeep Singh Puri lauded captain of the aircraft Kesari Singh for showing great skills to ensure that the plane lands safely.
"A Jet Serve Ambulance with a patient onboard lost a wheel during takeoff from Nagpur. Showing immense presence of mind Capt Kesari Singh belly landed the aircraft on foam carpeting in Mumbai. All onboard are safe. Commendable effort by @DGCAIndia @CSMIA_Official& other agencies," Puri said in a tweet.