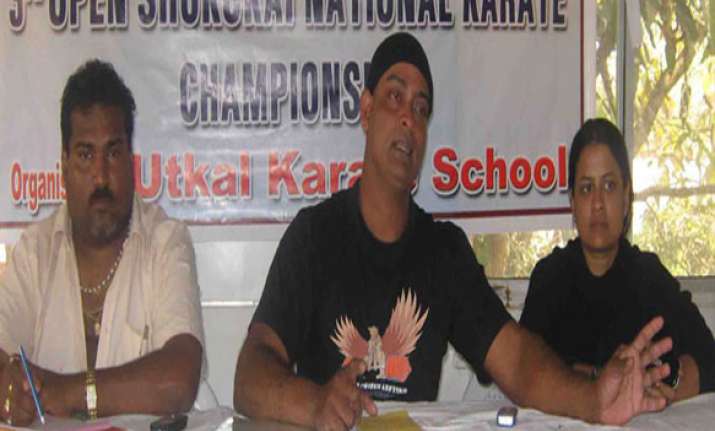 Ranchi/Jamshedpur, Feb 13:  A triple gold performance by Madhya Pradesh karatekas helped the state take the day one honours in the competition, even as Indian swimming sensation Virdhawal Khade and dope-tainted Richa Mishra set two meet records each in the 34th National Games today.
Madhya Pradesh also bagged two silver and one bronze in karate-do competition held at Shiekh Bhikhari Administrative Block at the Mega Sports Complex in Ranchi as they led the standings.
Riding on Khade's performance at the Veer Budhu Bhagat Aquatic Stadium in the Mega Sports Complex, Maharashtra were second on the table with three gold and eight bronze.
Jharkhand were not far behind as the hosts finished the day on third spot with two gold medals in taekwondo competition held at Ganpat Rai Indoor Stadium in the Mega
Sports Complex. The hosts also had two silver and two bronze to be on the third spot of the table.
Even as the mismanagement by the organisers continued to rule the roost in the 33-discipline meet, Khade and Richa provided the big push with two meet records each in the swimming competition.
The competition also saw a fifth record when Karnataka men's 100m freestyle team of Arjun J P, Gagan A P, Aditya Roshan and Ashwin Menon scripted their names in Games history.
It was also a memorable day for Delhi girl Richa, who was mired in doping controversy ahead of the Commonwealth Games last year, shattering two meet records en route to her double gold.
With shouts of 'Come on Viru, Come on Viru' at a packed Veer Budhu Bhagat Aquatic Stadium in the Mega Sports Complex, the Indian swimming sensation opened his account in the 200m freestyle with a Games record timing of 1.53:91s. The Kolhapur lad had a comfortable two seconds lead over his nearest opponent Rohit Havaldar of Karnataka as he went on to better his previous Games best timing of 01.54:18s.
Havaldar (1.56:16s) and Gagan A P (1.56:93s) finished second and third respectively to give a silver-bronze finish for Karnataka.
In his second event of the day, Khade eclipsed the previous Games best timing of 00.57:38 by Akbar Ali Mir (2002) in the 100m butterfly for his second gold with a meet record of 55:56.
Khade had more than two seconds lead over Delhi's Tarun Tokas (58:21) who settled for silver, while Bengal opened their account with a bronze courtesy Sumanta Nath (59.62). The 19-year-old then give the much needed boost to the
Maharashtra relay team as he powered them for a bronze medal finish in the 4x100m freestyle with a timing of 03.44:30. Karnataka clinched the gold, while Services Sports Control Board (SSCB) claimed the silver with a timing of 03.42:91 in the swimming competitions.
Richa bettered Shikha Tandon's record of 02.10:48 in the 200m women's freestyle for her first gold with a timing of 02.09:53. Talasha Prabhu of Goa bagged the silver clocking 02.11:62, while Aarti Ghorpade of Maharashtra bagged the bronze with a timing of 02.12:12.
In the 100m freestyle women, Richa bettered her previous Games best timing of 01.05:22 for her second gold with a record timing of 01.04:41. Pooja Alva of Karnataka (01.05:34) and Maharashtra's Rujuta Bhatt (01.06:42) clinched the silver and bronze respectively.
Madhya Pradesh dominated the karate-do ring clinching three gold medals, while Tamil Nadu bagged two at the competition held in Shiekh Bhikhari Administrative Block at
the Mega Sports Complex in Ranchi today.
Eight gold medals were decided in karate-do with Orissa, Sikkim and Delhi winning the three other yellow metals. In kata men's, Vikas Sharma of Madhya Pradesh won the
gold beating Meghalaya's Damang Syngkon, while Delhi's Ashish Wakte and Anil Sharma of Rajasthan won the bronze medals.
Orissa's Valena Valentia won the gold in kata women's defeating LInza Fenny of Meghalaya. Sandhya Chandrima of Madhya Pradesh and Jharkhand's Seema Kumar Sinha won the
bronze medals.
The second gold of Madhya Pradesh was won by Shaba Khan while Orissa Valena clinched her second medal in the form of a silver in the kumite 50kg women's category. Wandashesha Warjar of Meghalaya and N Harsha of Tamil Nadu clinched the bronze medals.
Savitri Jhariya of MP earned the third gold for her state beating local girl Vimla Munda of Jharkhand in the kumite below 45kg women's category where Reyna Gupta of Bengal and Dhiksha Shetty of Maharashtra clinched the bronze medals.
In the kumite 61kg for women, S Sumithra of Tamil Nadu clinched the top honours beating local challenge Seema Sinha as Soiram Chandrika (Manipur) and Chunnu Sangno (Andhra) settled for the bronze medals.
Sikkim's Sukhraj Mukhiya trounced Ankit Sonkar of MP for the gold-silver in the kumite below 50kg men's section that saw K Azhakesan of Tamil Nadu and Yasin Zabre of Maharashtra taking the bronze medals.
Delhi's second gold of the competition came in the kumite below 61kg men's category where Sewabrat Deuri trounced Dilip Kumar of Rajasthan in the final.
MP's Gaurav Sindhiya and F Lathan Puiya (Mizoram) settled for the bronze medals after losing in the semis.
Tamil Nadu's second gold in karate-do came through G Sabari Karthik who beat Paritosh Sharma of MP in the kumite 67kg men's category. Sameer Das (Assam) and Likha Rajan (Andhra) bagged the bronze medals.
In Taekwondo, Goa won two gold medals in the men's events while hosts Jharkhand picked up two in the women's section. Goa's Aman Kumar defeated Haryana's Sunil Kumar in the Under-54kg bout while compatriot P Anand put down a strong challenge from Punjab's Harpreet Singh in the Under-80kg.
Abrar Khan (MP) and K Anthony Raj settled for bronze medals in the 54kg while Sandeep Kumar (Services) and H Balasubramanium (TN) secured bronze medals in the Under-80 kg weight category.
Seven-time national Taekwondo champion Sandeep Kundu of Haryana won the gold medal in the over 87-kg fight defeating Goa's G Veera Basaviah, to pick up his first national games gold medal.
Usham Herojit Singh (Manipur) and Mirmal Singh (Services) won the bronze medals in the heavy-weight section. K Srilakshmi (over 73 kg) and Sonam Rajput (U-67kg)
opened Jharkhand's gold quest with hard fought battles over Nilufa Begam (Sikkim) and M Joimla Devi (Manipur) respectively.
B S Divyashree (Karnataka) and Varsha Landge (Maharashtra) were the bronze medalists in the 73-kg while K Thejaswini (Karnataka) and Komal S Shinde (Maharastra) secured bronze medals in the U-67 kg.
Another Jharkhand girl, Priti Kumari had to satisfy with a bronze medal after she lost to Sikkim's Sabina Sundas in the 46-kg bout. UP's Shraddha Dixit defeated Sundas in the final to win the gold in the category while Maharashtra's Trupti Khade was the second bronze medalist.
Six out of sixteen gold medals were decided today with eight up for grabs tomorrow and two on Tuesday. Star studded Jharkhand men and women teams won their
opening matches, defeating Tamil Nadu and Assam respectively at the Astroturf Hockey Stadium in Morhabadi area of Ranchi
here.
In the men's pool A tie, Birendra Lakra (Sr), Birendra Lakra (Jr) and Bikas Toppo picked up holes in the Tamilnadu defence to give Jharkhand a 3-1 win.
Toying with Assam defence, Jharkhand women's team rode on a four goal effort by Binita Xess for a thumping 8-0 win. Sabba Anjum (two), Niki Pradhan (one) and Subhadra
Pradhan (one) were the other goal scorers for Jharkhand. Defending champions in women's football, Orissa came from behind to beat Tamil Nadu 3-1 to begin their campaign on a positive note in a group league match at JRD Tata Sports Complex in Jamshedpur.
Hosts Jharkhand and West Bengal also beat their respective opponents in other women's football matches played here. Jharkhand defeated Haryana 4-2 while Bengal stunned last year's semifinalists Assam 4-2 in a group B match in the second session. PTI