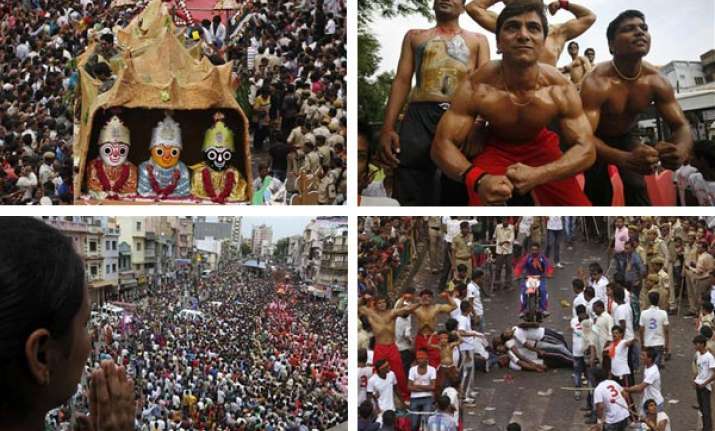 New Delhi: "Ratha Yatra" is the colourful festival which draws millions of devotees from various parts of the country and abroad to Puri. Also known as the Car Festival, the Rath Yatra is taking place today (July 10) this year.
The festival is held every year in the month of  June-July .
'Snana Pumima' marks the beginning of this festival. On this day the three deities - Lord Jagannath, Lord Balabhadra and Devi Subhadra take prolonged bath on an open platform known as 'Snana Bedi', Then they retire for 15 days popularly called the period of 'Anabasara' and remain in isolation, because the idols are supposed to be down with 'fever'.
After 15 days of isolation, the Gods come out of the temple in a colourful procession, with the accompanying of cymbals, drums and music,  to board their respective chariots and thereafter begins the journey known as "Rath Yatra'.
The king of Puri himself comes to the chariots, and with a broom, having a silver handle, performs the "Chhera Panhara" (the sweeping of chariots), only after which the journey begins.
lt is believed  that those who take part in the Car Festival earn their passage to the Heaven as Lord Jagannath, Lord of the Universe, comes out of His sanctum sanctorum to give 'darshan' (audience)  to all devotees belonging to all sects and communities.
On the first day, the idols of Lord Jagannath, his brother Balabhadra and  sister Subhadra are carried through the main road of Puri  in three huge thundering chariots, with kilometre long ropes pulled by lakhs of devotees. The idols reach the Mausima (aunt) temple, where they stay for nine days.
Nine days later, the idols return to the main Jagannath temple in a similar procession known as "Bahuda Yatra" (return journey) or the return car festival.  
With security arrangements at the peak after the serial blasts in Bodh Gaya,  the police is not leaving anything to chance.
Have a look at some of the pics on the arrangements being made for Rath Yatra: