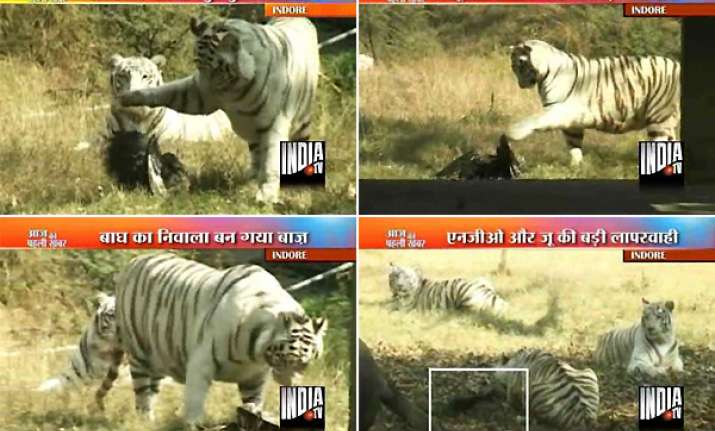 Indore, Feb 2: Two white tigers inside their enclosure in Indore Zoo here on Wednesday tore a wounded hawk to shreds in the presence of zoo staff, who couldn't believe their eyes.

On Makar Sankranti day (Jan 14), a local NGO Karuna International brought four wounded birds including two hawks to the Indore Zoo for treatment. The birds were wounded because of kite flying by people. Usually, birds get wounded because of a large number of kites flying in the sky with threads coated with glass shreds by people.

One of the hawks was badly wounded and was unable to fly. The hawk was brought by the NGO activists to the zoo.

On Wednesday, a tree planting programme took place in the zoo and the four injured birds were supposed to be released.

As soon as the wounded hawk was released, it couldn't take  flight and returned to base.

The zoo staff again tried to release the hawk, and this time the bird tried to fly and couldn't. It  sat inside the white tigers enclosure.

One of the tiger then  pounced upon the hawk. Meanwhile, a large number of hawks on seeing one of them in trouble, began to make a shrill noise in the sky and circled in the sky in groups  high above the enclosure.

The tigers soon tore the wounded hawk and made a meal of it.

Zoo officials were tightlipped about the  incdient.