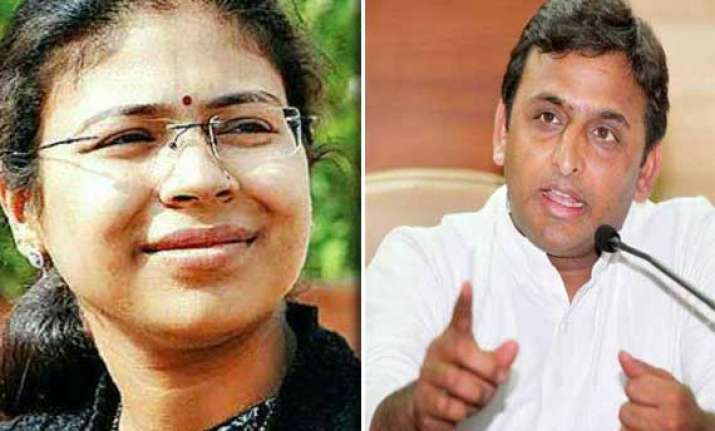 New Delhi, Aug 1: The Centre today assured justice will be done to suspended IAS officer Durga Shakti Nagpal, who had clamped down on the mining mafia in Gautam Budh Nagar area of Uttar Pradesh.
However, UP chief minister Akhilesh Yadav today made it clear that there would be no rethink on revoking the suspension order. 
The assurance on behalf of the Centre was given by Minister of State for Personnel V Narayanasamy during a meeting with delegation of All India IAS Officers' Association.
"The Minister assured us that he will look into all facts. I have been assured justice will be done," Association's Secretary Sanjay R Bhoos Reddy told reporters here after the meeting.
The Association, which at present has about 4,737 member (equal to the number of officers of the elite service), has sought immediate revocation of Nagpal's suspension.
The Ministry—which acts as a nodal department for personnel matters of IAS—is yet to receive a report from Uttar Pradesh government over suspension of the IAS officer.
Nagpal, a 2010 batch IAS officer of Uttar Pradesh cadre, was suspended on July 27 ostensibly for ordering demolition of wall of a mosque without following the due process. 
Her suspension has evoked sharp reaction from opposition parties including BJP and BSP, who alleged that she was removed over her action on sand mafia operating in Gautam Budh Nagar area of the state.
Nagpal, as Sub-Divisional Magistrate (SDM) of Gautam Budh Nagar, has cracked down on sand mafia active in that area.  The young IAS officer is at present attached to the Board of Revenue in Lucknow.
Notwithstanding any opposition and requests, the UP government is considering to charge sheet the suspended officer, a preliminary process to initiate disciplinary proceedings against an officer.
Speaking to reporters in Lucknow, UP chief minister Mulayam Singh Yadav directly alleged that the decision by Durga Shakti Nagpal to demolish the wall of a mosque in Noida was an "irresponsible"  decision which led to unnecessary tension.
Describing the suspension as "justified", Akhilesh Yadav said, all government officials need to be responsible while dealing with matters pertaining to law and order, and maintenance of communal harmony.
Yadav said, his government was being criticised for backing the sand mafia on the basis of misleading information.
"For the last two months, the Noida authority has been taking action against illegal sand mining, and there has been no interference on the part of our government", Yadav said.
"The suspension (of Durga Nagpal) was not related to illegal sand mining. You go to that village in Noida and  speak to people there. They are poor Muslims who collected donations and built a wall for their mosque.
Without any consultation, the officer (Nagpal) ordered the wall to be demolished. This is unfair", said the chief minister.
When a reporter pointed out that the DM of Gautam Buddha Nagar has in his report on the suspension order has said that Nagpal had not issued any order for demolition of the wall, Akhilesh Yadav retorted: "You are mentioning  the DM's report. You also read the LIU (local intelligence unit) report."
"Whatever action (Nagpal's suspension) that was taken, was justified", said Yadav.