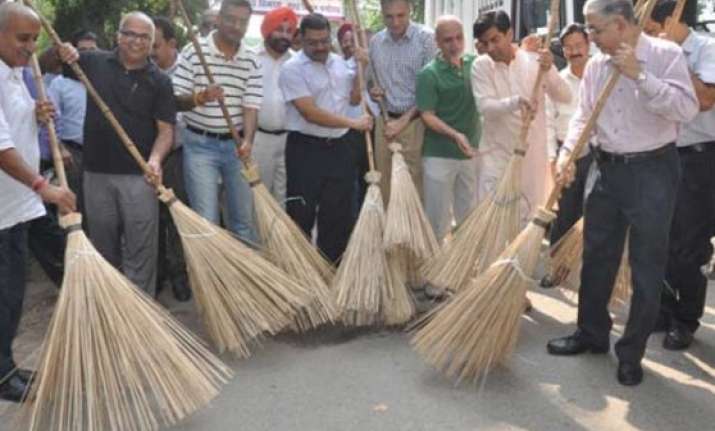 New Delhi: Will people in Delhi stop littering the roads and spitting in public places as a result of Prime Minister Narendra Modi's Clean India programme? What will be the campaign's impact?
These will be among the many aspects that students of Delhi University will study for a report which they will submit to Ministry of Environment and Forests after completion of five years of 'Swachh Bharat Abhiyan'.
"Usually projects are launched by the government but this is a one-of-its-kind campaign. It is important to study its impact and success rate. Therefore, DU students will undertake this study for five years and suggest the policy makers about aspects where there is room for improvement," said PC Joshi, professor in DU's Department of Anthropology.
The project will begin in February next year. "We will study the problem areas identified during earlier research and will observe the changes - positive or negative - over the period of 5 years in those problem areas."
"After the completion of five years and culmination of the cleanliness campaign in 2019, we will prepare policy making documents and send them to MoEF for their consideration," Joshi said.
The study will be limited to the campaign's impact in Delhi and will also take note of contribution of various stakeholders in the success of the campaign.
The anthropology department had previously conducted a four-year-long study during 2004-2008 on the 'human civic behaviour in public places'.
"We surveyed over 120 localities and interviewed over 10,000 people in Delhi, Lucknow, Kohima, and Guwahati and studied the patterns of how people behave in terms of civic etiquettes in public. We will now revisit the same localities and study what is the impact of the cleanliness campaign," Joshi said.
A research on commuters maintaining cleanliness in Delhi Metro trains and stations had also been conducted, he added.
Meanwhile, DU's Geography Department has decided to conduct research on sustainable development options available in Delhi and give their suggestions to the MoEF.
"We have decided to reserve three seats in M.Phil course every year for research on sustainable development areas. Each research conducted will be on current issues and will be sent to MoEF to suggest measures to the ministry for constant improvement in the programme," said RB Singh, HOD, Department of Geography.
The nationwide 'Swachh Bharat Campaign', which was launched by Prime Minister Narendra Modi on October 2, will culminate in 2019 on 150th Birth anniversary of Mahatma Gandhi.