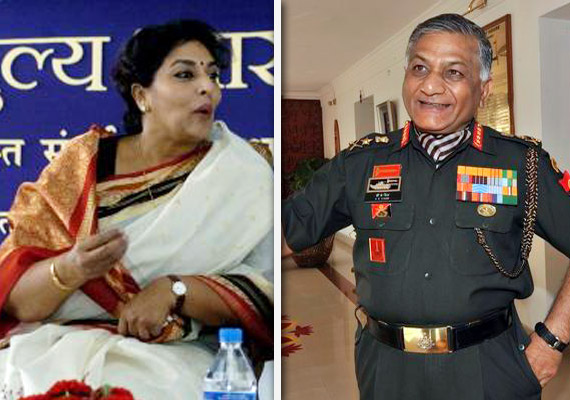 New Delhi, Mar 29: As the face-off between the Army chief and the government continued, Congress today bluntly told Gen V K Singh that its patience should not be viewed as its weakness.
"It is a very senstive issue. The country is being visited by leaders, including those from our neighbouring country. There should be restraint and constraint. Our patience should not be viewed as our weakness," Congress spokesperson Renuka Chowdhury told reporters here.  
She said since Gen Singh himself has stated that the leakage of his letter to Prime Minister Manmohan Singh should be considered as "high treason," then "scope of that will be examined".
Chowdhury said her father is an ex-serviceman who has always maintained that honour of the nation and integrity of the Army were more important than "indulging oneself".  
Asserting that no one would compromise on the defence preparedness of the nation, she suggested that anyone pointing fingers at the defence ministry was not only doubting the integrity of the government but integrity of Parliament too.  
Seeking to dismiss certain charges made by the Army chief, she said, "It is ridiculous to suggest that every nut and bolt is procured by the ministry. Army is autonomous at many levels and when big bucks comes into play, the ministry comes in.
"If you are going to go to the media, then there seems to be a larger picture. We do not discuss (publicly) what we discuss with the defence minister. Then it evokes a response," she said.
Chowdhury said she was sure that Gen Singh, who rose to the level of the Army chief, was "aware of the scope of his jurisprudence".