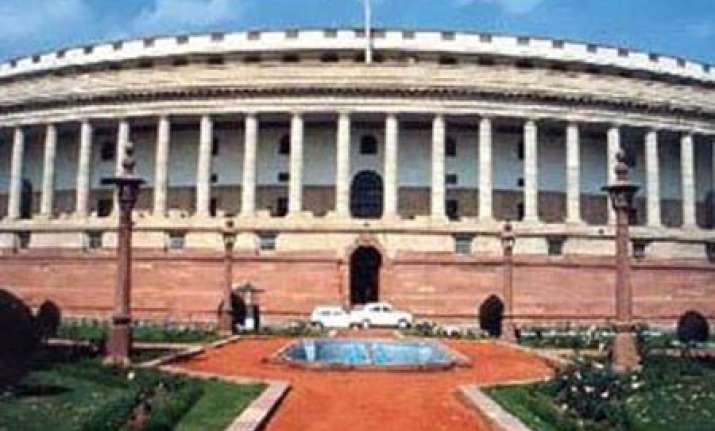 NEW DELHI: With the standoff in Parliament over the Opposition's demand for a JPC probe into the 2G spectrum scam persisting on Thursday, there is a strong possibility of the two Houses being adjourned sine die, reports Times of India.
The risk of the winter session being aborted rose sharply after the Congress leadership refused to budge from its stand not to give in to the Opposition's insistence on a Joint Parliamentary Committee probe into the 2G spectrum allocation.
The Congress also decided to rope in allies to block the pressure for a JPC that rose sharply on Tuesday morning after Supreme Court asked for an affidavit from the government to explain why Prime Minister Manmohan Singh delayed responding to a petition seeking former telecom minister A Raja's prosecution.
The defiant stand was finalised by the Congress core group on Thursday. The SC's obervations and the likelihood of more courtroom drama was seen as a validation of Opposition's agitation and ensured that the logjam will continue.
Significantly, the Opposition has resisted demanding PM's resignation. Both BJP and CPM leaders are aware that the focus on the PM is driven by the SC and might fade once the court disposes of the affidavit and have carefully avoided demanding Singh's resignation. They are calibrating their responses riding on the apex court's observations and looking to push the government into a corner.
The government's defence rests on Swamy being a private individual and his petition being subject of an ongoing investigation. It is also argued that as former minister Raja clearly took full responsibility in assuring the PM that there had been no change in policy or licence fees and so was competent to allocate spectrum. The DMK leader asserted that this was his turf.
On their part, BJP and CPM are clear about keeping the pressure on for the JPC probe. Though the apex court did put the government on the defensive and widened the 2G telecom mess beyond DMK's Raja who reluctantly quit over an adverse Comptroller and Auditor General report, Congress refused to relent on its stand against JPC.
Congress said the PM's integrity was beyond reproach, and dismissed criticisim for delay in responding to Subramanian Swamy's petition seeking sanction for Raja's prosecution. The party argued that Swamy's complaint was the viewpoint of a private individual.
The party is also calculating that BJP's troubles with Karnataka chief minister B S Yeddyurappa may also prove to be a diversion.
While he has faced a few testing days, the PM has not been unduly flustered by events and on Wednesday, even as rumours of his resignation circulated, he held an official meeting at his residence -- an holiday for Bakr Id -- and was perfectly calm and focused.