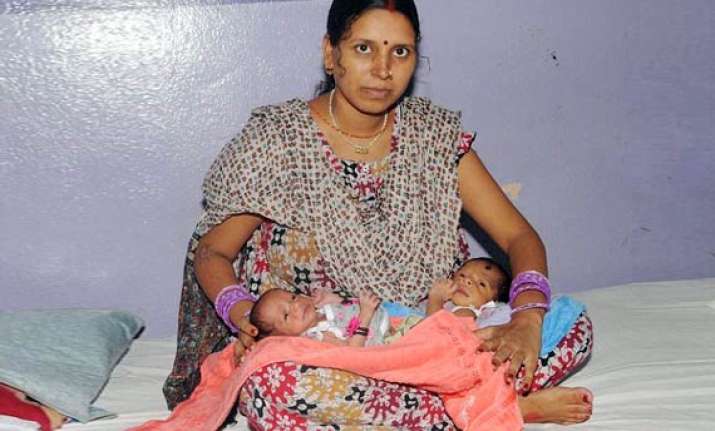 New Delhi, Aug 9:   Rinku Devi, the wife of an Army Intelligence officer in Bihar, on Friday gave birth to one-in-fifty million babies - one from each uterus, The Daily Mail reported. 

Stunned doctors said giving birth to healthy babies conceived in different uteruses is so rare an average of one case is reported each year anywhere in the world.

Rinku, 28, believed she was carrying twins but had no idea of her medical condition, known as uterus didelphys, or double uterus.

During labour doctors discovered the mother-to-be had conceived her sons a month apart, during successive menstrual cycles.


 



'I got to know about having two uteruses when I was already in labour pain,' she said.

'I didn't know how to react. I was in pain and quite scared. I had not heard of anything like this before. I got to know about the rarity and severity of this condition days after my delivery.

'I am very happy and feel proud to have survived through this. When I was told I was carrying twins, I thought they would look the same, but I am happy they look different. I want to thank God for giving me a new life,' she added.

Gynaecologist Dr Dipti Singh delivered the premature babies, weighing 4lbs 4oz and 3lbs 3oz, at the Mati Sadan Parijat Nursing Home nursing home in Muzaffarpur.

'I only found out about Rinku's condition when she was in labour, it wasn't diagnosed until then,' she said.






'I knew from her reports that she was carrying twins, but when I understood the situation I was a little taken aback. I had never handled such a case before.

'Even my mother-in-law, who retired last year as the head of gynaecology at the city hospital, never experienced such a case. It is very rare.' Dr Singh said most women with the condition were not even aware of it as it rarely caused other symptoms.

'Rinku was not aware that she has two uteruses despite the fact that she had delivered her first baby four years ago,' said Dr Singh.

'She had a normal pregnancy before. The chances of carrying a baby in each of the wombs at the same time are one in fifty million.' Such pregnancies are often fatal for mother and baby, carrying a high risk of miscarriage, premature labour and underweight babies.

Dr Singh said: 'Fortunately this was a different case because Rinku was healthy and her babies had grown well. To minimise the risk or stress to mother or babies we decided to operate. The caesarian surgery lasted for about an hour and two boys weighing 1.5 and 2 kilograms were born.'

Rinku, the wife of an army intelligence officer, lives with her family in Mathurapur Chakiya village of Bihar.