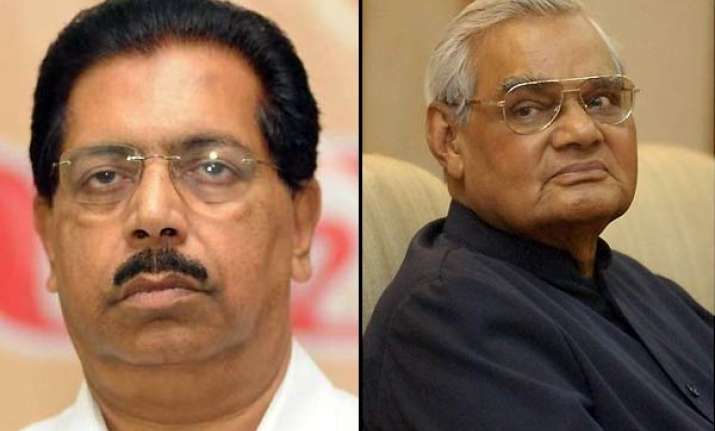 New Delhi, June 1 : The P.C.Chacko-led Joint Parliamentary Committee probing the 2G scam has decided to summon ailing former Prime Minister Atal Bihari Vajpayee to depose before the committee, The Pioneer daily reported.
 
Vajpayee is bedridden for the last several months due to illness. The report says, considering the sort of respect Vajpayee commands across the political spectrum, it is unlikely that even  members from the Congress will endorse the decision to summon the former PM before the JPC.
 
The report sai, Vajpayee's name was included in the draft witness list on the insistence of the Congress members who argued that since Vajpayee held the telecom portfolio for a short period in 1999, his deposition was crucial to understand the policy changes brough about by the NDA government in 2000.
 
The report said, it was interesting that the draft list of witnesses does not contain the name of Prime Minister Dr Manmohan Singh, who faced sharp crticism for remaining a mute spectator during the 2G spectrum plunder.
 
JPC chairman P C Chacko told The Pioneer that a final decision  would be taken at the next meeting on June 6.
 
Chacko said: "In the last JPC meeting on May 30, some members of the committee observed that former PM Vajpayee should also be called, as he had held the telecom portfolio for a brief period in 1999.
 
"As the committe has the mandate for probing into the Telecom affairs from 1998, we have also included his name in the draft list of witnesses to be summoned.
 
"The committee members have suggested several names of witnesses to be called. We will finalize the list of witnesses by June6", Chacko said.
 
Other names that figure in the list of witnesses apart from Vajpayee are former Telecom Ministers Jag Mohan, Ram Vilas Paswan, Arun Shourie and Dayanidhi Maran, Planning Commission deputy chairperson Montek Singh Ahluwalia, telecom expert Sam Pitroda and several journalists.