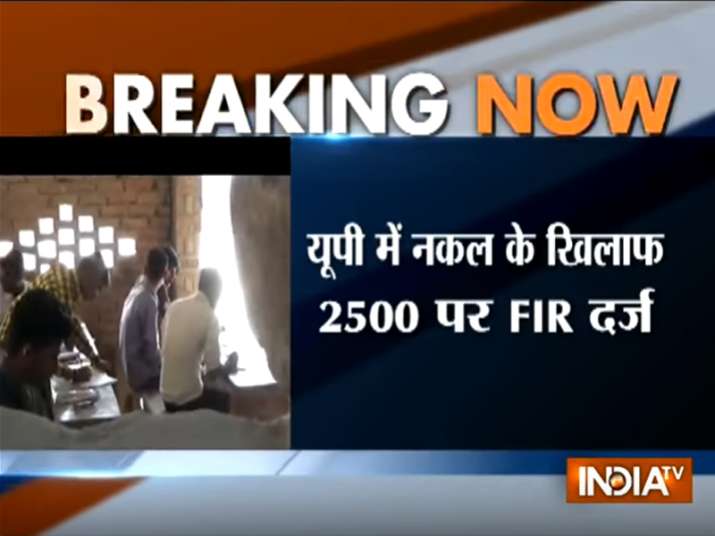 Anguished over the reports of mass cheating in the ongoing Board examinations in the state, the UP government today ordered to cancel exams at 54 centres and blacklisted 57 centres from holding exams. 
FIRs have been registered against more than 2,600 people that includes 1,419 students, 1,100 centre superintendents and 178 invigilators.
Deputy CM Dinesh Sharma, who also holds the Education portfolio, has also ordered the transfer of 327 administrators. Warnings have also been issued to five District Inspector of Schools (DIOS) with regard to instances of mass cheating. 
The state Board exams that began on March 16 have been a cause of major embarrassment for the government. Instances of unabated cheating inside classrooms and students scaling walls to pass on chits inside examination halls were caught on camera. Several students were caught cheating during exams in different parts of the state. 
The decision was taken after Sharma held a video conference with district school superintendents late last evening.
A toll-free number –18001806760, landline number 0522-2236760 and WhatsApp number -- 9454457241 have been launched for registering cheating related complaints.
Sharma had yesterday said that adequate steps were being taken to eradicate the 'nakal mafia' from the state.
Sharma, who heads Secondary Education Department, held a video conference with District Magistrates last evening and directed them to ensure that there should be no copying in the ongoing board examinations.
Asserting that a lot of changes are needed to be done in the field of education, Sharma said that to curb cheating he had spoken with all the DMs and SSPs and directed them to impose prohibitory orders under Section 144 CrPC within 100 metres of the examination centre.
"Tough steps will be taken to eradicate this menace," he told reporters.