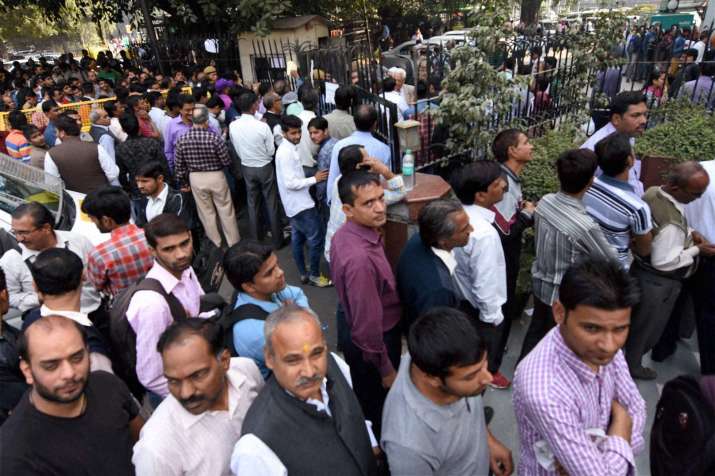 A 49-year-old man died on Monday afternoon while waiting for his turn to deposit Rs 50,000 in scrapped 500 and 1,000 rupee notes at a bank in Delhi's Najafgarh area as long queues persisted outside bank branches for the 12th day since the banks reopened after the November 8 demonetisation of high value notes. 
The incident occurred outside the Oriental Bank of Commerce branch in Najafgarh where vegetable vendor Satish Sharma collapsed around 2.30 p.m. while standing in the queue along with one of his friends. 
Police said that Sharma, a resident of Keshav Puram in west Delhi, was standing in the queue since 11.30 a.m. Sharma had gone to the bank with his friend to deposit money and two were standing in the queue when Sharma collapsed and fainted.
His friend and others raised an alarm and The police control room was informed. 
Deputy Commissioner of Police Surender Kumar told IANS that Sharma was rushed to Mata Chanan Devi hospital in a police vehicle but was declared dead by doctors there. 
"The exact reason behind Sharma's death is yet to be ascertained. It seems that he suffered cardiac arrest while standing in the queue. The fact will come after his autopsy report," the officer said. 
The officer said that Sharma telephoned one of his family members around 1.30 p.m. and informed that he would return within half-an-hour after depositing cash in the bank.
Police has recovered Rs 50,000 notes from his pocket. 
Sharma's family members claimed that he was medically fit. 
Delhi Chief Minister Arvind Kejriwal said that the "noteban was becoming a killer." 
"Hey Bhagwan! This noteban is turning into a killer," Kejriwal tweeted while responding to the news. 
Meanwhile, one more person died in a stampede outside the State Bank of India (SBI) branch in Deoria of Uttar Pradesh, earlier today.
65-year-old Ram Nath Kushwaha was crushed when people waiting in queues outside the bank rushed to enter the premises as the branch opened in the morning.
Kushwaha, a farmer from Kanakpura village, was at the Tarkalua branch of SBI to withdraw money to pay for his daughter-in-law's treatment, who delivered a baby only two days ago.
Eye-witnesses said that nearly thousand people were waiting when the bank opened and the bank did not have adequate security arrangements. It had a single door for both exit and entry, the Hindustan Times reported.
Kushwaha fell on the ground during stampede and people trampled over him.
His body was handed over to the family after the autopsy. The police said no case had been lodged as the death occurred in a stampede.
People, like other days, were seen struggling in serpentine queues to withdraw cash from Automated Teller Machines (ATMs) and trying to deposit or exchange the spiked high-value currency notes in banks across the country. 
Some expressed frustration and disappointment over the long wait while a few of them said they have become habitual. And many were angry because their previous attempts had failed as many ATMs were non-functional.
In Delhi, several ATMs displayed boards of "No cash" and "Out of cash" on them since morning. Even in the evening, anxious people were seen visiting ATMs to check whether cash was available.