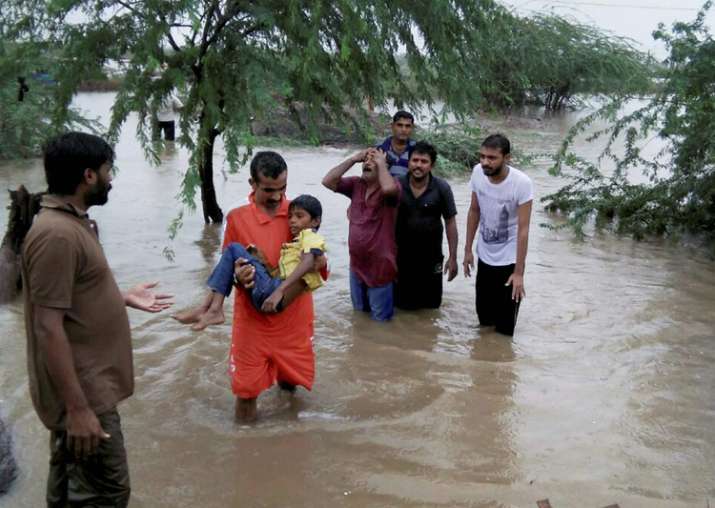 Rain pounded several parts of the country throwing life out of gear as the southwest monsoon advanced to several states. Torrential rain led to a deluge-like situation in parts of Gujarat and triggered fresh landslides in Himchal Pradesh, even as the flood situation in Assam remained grim with more rain likely to hit the northeast region on Sunday.
Sharp showers pounded Tankara taluka of Gurjarat's Morbi district in a short span of time. The rainwater breached several check dams, leading to heavy waterlogging on Saturday. Tankara gauged a massive 280 mm of rainfall in the last 24 hours. Teams of the disaster management department with the help of National Disaster Response Force personnel rescued around 14 people stranded in floodwaters in the district. Suigam taluka in Banaskantha, Kodinar taluka in Gir Somnath and Kalyanpur in Devbhoomi Dwarka received 110 mm of rainfall overnight, which led to traffic snarls.
Chief Minister Vijay Rupani said the state's disaster management authority has been put on alert to tackle any emergency situation. The low-lying areas in Ahmedabad are waterlogged. The city recorded 31 mm of rainfall. The IMD has warned of "heavy to very heavy" rain in Gujarat in the next three days.
A 17-year-old youth was killed after a cloudburst struck a village in south Kashmir's Kulgam district on Friday. Meanwhile, the 300-km-long Jammu-Srinagar national highway, the only all-weather road connecting the Valley to the rest of India, was reopened for vehicular traffic after a day-long closure due to rainfall-induced landslides in Ramban and Udhampur districts of Jammu and Kashmir.
Widespread rain led to fresh landslides in Himachal Pradesh. The Manali-Leh road was blocked near Koksar. The MeT office has predicted moderate to heavy rain and thundershowers in the mid and lower hills, and snow and rain in the higher reaches up to July 7.
In Assam, floods have affected more than 2.68 lakh people in Barpeta, Lakhimpur, Jorhat, Karimganj, Cachar, Dhemaji, Karbi Anglong and Biswanath districts. The Assam State Disaster Management Authority's report said 453 villages have been inundated and over 5,272 hectares of crop area damaged by the swirling flood waters. Karimganj is the worst hit with 1.53 lakh sufferers. 76,000 people have been affected in Lakhimpur. 5,670 people have taken shelter in 269 relief camps set up in four districts.
The southwest monsoon advanced into the remaining parts of Bihar. Heavy and very heavy showers drenched northern Bihar, while the southern part of the state received light to moderate rainfall in the last 24 hours. Patna gauged 0.7 mm of precipitation, Gaya 0.6 mm and Purnea and 7.7 mm. Humidity levels soared up to 100 per cent in Patna, Gaya, Bhagalpur and Purnea.
A fresh spell of rain and a cloud cover thereafter kept the heat at bay in the national capital. Several parts of the city gauged rainfall between 9.8 mm and 15.9 mm. It had a high of 35.1 degrees Celsius and a low of 25.4 degrees Celsius. People in several areas of the national capital woke up to showers on Sunday morning.
It was another wet day for Punjab and Haryana on Saturday. Rains over the last two-three days have arrested the rise of the mercury in the region.
The maximum temperature in the two states remained below the normal levels and was recorded in the mid 30s at most of the places.
The weatherman has predicted very heavy rain in Meghalaya, Nagaland, Manipur, Mizoram, Tripura, sub-Himalayan West Bengal, Sikkim, Bihar and eastern Uttar Pradesh. A downpour is "very likely" in Arunachal Pradesh, Gangetic West Bengal, Odisha, Jharkhand, west Uttar Pradesh, Uttarakhand, Gujarat, Goa, Chhattisgarh and coastal Karnataka.
The southwest monsoon arrived on Saturday in Kinnaur, Lahaul and Spiti, Kullu and Mandi and parts of Sirmaur, Shimla, Kangra and Chamba districts as the MeT said it will advance in remaining parts of Himachal Pradesh in the next few days. The state received 21 per cent excess rain and all districts except Bilaspur, Chamba, Mandi and Hamirpur had above average rains except.
Una, Kullu and Sirmaur districts recorded 88 per cent, 82 per cent and 71 per cent rainfall above normal. The three districts received 142.5 mm, 156.5 mm and 262.8 mm of rains, respectively. Kangra recorded 46 per cent excess rain followed by Shimla at 35 per cent and Solan 34 at per cent while Hamirpur and Bilaspur had 9 per cent less rainfall.