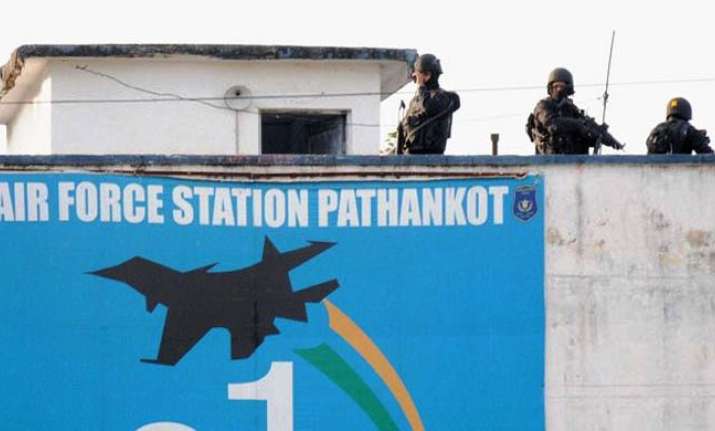 Pokhra (Nepal): The Pakistani Joint Investigation Team probing the terror attack on the Pathankot air base early January will arrive in India on March 27, External Affairs minister Sushma Swaraj said today.
She was addressing the media after her meeting with Pakistan's Foreign Affairs Advisor Sartaj Aziz on the sidelines of the SAARC Foreign Ministers' Meeting in Pokhara, Nepal. 
The move follows an in-principle approval by India's Ministry of Home Affairs for the visit of Pakistan's Special Investigation Team (SIT) to India. While MHA sources earlier said that the team will be allowed to visit wherever necessary, it is yet to officially receive the composition of the team and the date of its arrival yet.
As expected, the Pathankot terror attack was taken up in the bilateral meeting between Sushma and Aziz.
"It's not possible that I and Pakistan Foreign Affairs Advisor meet and Pathankot issue is not taken up. Yes, it was discussed. Pakistan's Joint investigation team will reach India on the 27th of this month," she said.
"Some issues of concern between India and Pakistan were decided upon in a very cooperative and positive manner," the minister added.
Sartaj Aziz also confirmed that the Pathankot attack issue was taken up during the meeting between the two leaders. Aziz expressed hope that the probe into the Pathankot attack would bear fruit.
"Looking at the way Pathankot issue has been handled & cooperation on this subject, we're hopeful of good results," he said.
"We also discussed various issues where we had differences," he added.  
Prime Minister Nawaz Sharif had formed a team including representatives of different intelligence agencies to provide relative material to Indian authorities. The special team was put together that was tasked with assistance of Indian departments that are probing the airbase attack.
The Joint Investigation Team includes officials of Intelligence Bureau, Inter-Services Intelligence, Military Intelligence, Federal Investigation Agency and Police to probe the Pathankot attack links to Pakistan.
The team comprises - Punjab counter Terrorism Department (CTD) Additional IGP Muhammad Tahir Rai (convenor), Lahore Deputy Director General (DDG) Intelligence Bureau Mohammad Azim Arshad, Inter-Services Intelligence (ISI) Lt. Col. Tanvir Ahmed, Military Intelligence Lt. Col. Irfan Mirza and gujaranwala CTD Investigating Officer Shahid Tanveer (members).
During the meeting, Sartaj Aziz also formally handed Swaraj an invitation for Prime Minister Narendra Modi for the SAARC summit to be held in Pakistan's capital city of Islamabad in September this year.
Speaking to the media, Aziz also expressed hope that Prime Minister Nawaz Sharif and PM Modi could meet on the sidelines of the Nuclear Security Summit on March 31 and April 1, 2016. The summit is scheduled to be held in Washington and US President Barack Obama has invited both leaders to be part of it.  
"We're hopeful that both PMs will meet there," Aziz said.