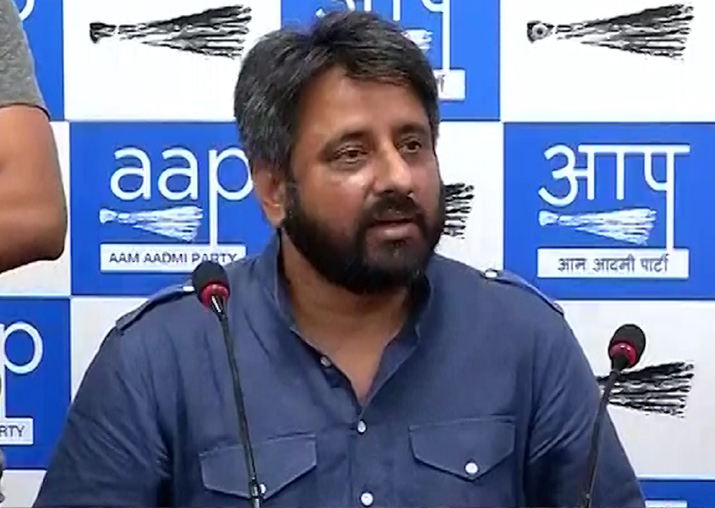 Aam Aadmi Party (AAP) MLA Amanatullah Khan on Tuesday refuted charge that he had assaulted Delhi Chief Secretary Anshu Prakash during a meeting at CM Arvind Kejriwal's residence. The Okhla MLA added that the entire fiasco has been orchestrated by the Bharatiya Janata Party (BJP).
"MLAs are worried because people are not getting ration. Last month 2.5 lakh people had not received ration. When we raised this issue with CM, he told us that he will convene a meeting of top officials," he told India TV.
Khan said that at the meeting which took place at CM's residence late last night, MLAs said that people are suffering because of the delay in the implementation of door-to-door campaign.
The lawmaker added that when the Chief Secretary was asked about the scheme, the official said that he is "not accountable to us and left the CM's house without responding".
"We asked him about the delay in door-to-door campaign and steps being taken to implement it. But he said that 'I will not reply to you because I am not accountable to you'. He then left the CM house," Khan said.
"I did not assault Delhi Chief Secretary Anshu Prakash, everything is happening at the behest of BJP," he added.
Khan also rubbished reports that he had misbehaved with the Chief Secretary. "It has become a habit to level accusations on anyone..we questioned him but he left the place," he said.
Earlier on Tuesday, a war of words erupted between the AAP and the BJP over an alleged assault on Anshu Prakash by ruling AAP MLAs in the presence of CM Kejriwal.
BJP leader Vijender Gupta, who is also the Leader of Opposition in Delhi Assembly, alleged Kejriwal "in his dictatorial style" called the Chief Secretary at midnight on Monday and "berated" him in front of his MLAs.
But Delhi government spokesperson Nagendar Sharma denied the allegation saying the Chief Secretary was making false accusation at the behest of BJP.