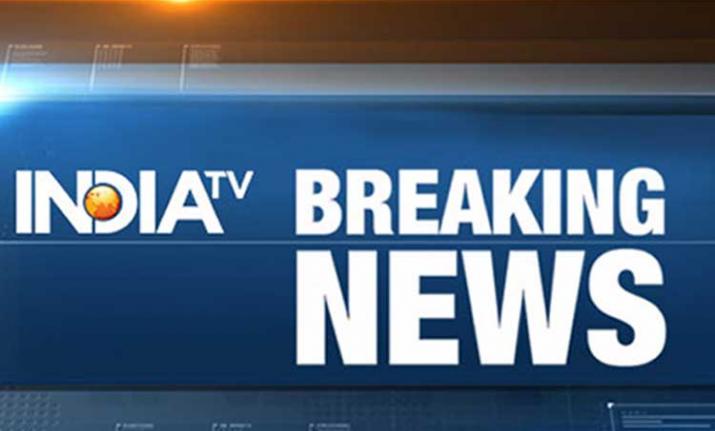 Daily dose of news plays very important role in our daily life. For some people, the morning is incomplete without knowing about what's happening across the world. Some digital-savy people have a habit of consuming news even when they are travelling or in their free time. In today's world, where people rely on news websites for everything that's happening around, IndiaTV News provides you all breaking news, latest news, breaking story videos, Live TV and top shows of IndiaTV, country's leading news channel on a single platform to ensure you don't miss anything important.
Internet, Twitter, Facebook are buzzing with breaking news and news alerts from India and rest of the world. You can find here the LIVE COVERAGE of all breaking news alerts and latest news updates on just one page. IndiaTV Digital covers all top news as and when it happens and ensures its readers don't miss anything important.
Breaking News of October 3: 
05:41 pm: The death toll from earthquake and tsunami in Indonesia has increased to 1,407
05:15 pm: ED attaches assets worth Rs 9.19 crores of Stanlywiss Rymbai, ex MLA, Meghalaya and others in a case of misappropriation of Govt money.
04:50 pm: Cabinet meeting underway at PM Narendra Modi's residence; big relief for farmers expected to be announced.
04:45 pm: Tamil Nadu: Madras HC grants permission for public meetings to be conducted by DMK at 102 places across the state against the ruling AIADMK.
04:20 pm: BSP will fight assembly elections in Rajasthan and Madhya Pradesh on its own. No alliance with Congress: BSP chief Mayawati to ANI
04:07 pm: Digvijaya Singh is giving statements that Mayawati ji has a lot of pressure from Centre so she doesn't want this alliance. This is baseless: BSP Chief Mayawati to ANI
03:50 pm: Sensex plunges 550.51 points closes at 35,975.63; Nifty slips 150.05 points closes at 10,858.2
03:33 pm: Delhi's Patiala House Court issued production warrant against Ranjit Malik in bank loan fraud case of Gujarat-based pharma firm Sterling Biotech (ANI)
03:29 pm: Travancore Devaswom Board will not file review petition against the Supreme Court's verdict on Sabarimala temple: Devaswom Board President A Padmakumar (ANI)
03:29 pm: SC asks states and union territories to submit within two weeks status reports on reunion and rehabilitation of persons, who are lodged in mental asylums despite being declared fit.
03:27 pm: Nobel Prize in Chemistry 2018 awarded to Frances H. Arnold, George P. Smith and Sir Gregory P. Winter
03:16 pm: Plea filed in SC for urgent hearing seeking a restraint on the GoI from deporting 7 Rohingya Muslims. Bench declined mentioning.
03:14 pm: Muzaffarpur shelter home case: CBI has reached a cremation site in Sikandarpur, Bihar, for further investigation.
03:14 pm: Prime Minister Narendra Modi will address a public rally in Ajmer on Saturday on the completion of Rajasthan Chief Minister Vasundhara Raje's 'Gaurav Yatra'
03:08 pm: India sends 7 Rohingya Muslims to border for deportation to Myanmar who were in an Indian jail since 2012 for illegally entering the country, reports Reuters quoting police
02:59 pm: Centre extends the Armed Forces (Special Powers) Act in 3 districts of Arunachal Pradesh and its 8 police station areas bordering Assam by another 6 months
02:52 pm: Justice Surya Kant of the Punjab & Haryana High Court appointed as the Chief Justice of the Himachal Pradesh HC.
02:45 pm: World Court, the highest UN tribunal, orders the US to ensure Iran sanctions don't hit humanitarian aid: Reuters
02:39 pm: Bihar: 3 arrested in connection with abduction and murder case of a bank manager on Wednesday. The incident took place on September 27 & body was found in Koderma dam. 
02:23 pm: A new roster in SC issued on the orders of CJI Ranjan Gogoi. He has kept PILs with himself, some will be listed before Justice Madan B Lokur on directions from CJI
01:57 pm: AIADMK MLA Anbalagan files complaint with Puducherry Assembly speaker to move Privilege motion against Lt.Guv Kiran Bedi after a verbal spat between the two at an event. 
01:43 pm: Def Min Nirmala Sitharaman returning from Kazakhstan on Wednesday night keeping the likelihood of signing of the S-400 deal during Russian President Putin's visit to India on Oct 4 & 5
01:27 pm: Delhi HC transfers rape case against self-styled godman Daati Maharaj from crime branch to CBI
01:09 pm: A volcano erupted on Wednesday morning in North Sulawesi province, Indonesia. Mt Soputan spewed ash 6,000 meters into the sky, reports AFP 
01:06 pm: Pattali Makkal Katchi to hold protest against fuel price hike in TN on October 5.
12:47 pm: SC adjourns contempt plea filed against Delhi BJP Chief Manoj Tiwari for ten days, asks him to appear before it on the next date of hearing. 
12:43 pm: BJP president Amit Shah and Congress chief Rahul Gandhi to visit Bikaner on Oct 4 and Oct 10 respectively. They will hold meetings ahead of the Assembly elections in Rajasthan.
12:31 pm: Delhi: PM Narendra Modi receives the 'UNEP Champions of the Earth' award from UN Secretary General Antonio Guterres.
12:20 pm: Thiruvadanai MLA S Karunaas sends a letter to TN assembly secretary expressing his intention to move a resolution seeking removal of P Dhanapal from the post of speaker of the assembly (ANI)
12:15 pm: Bullet-riddled body of a man found in a car in Bulandshahr on Tuesday night, FIR registered against unknown persons. Investigation underway (ANI)
12:08 pm: Delhi: Former joint commissioner Pallav Kanti Ghosh appears before CBI in connection with Saradha chit fund scam.
12:04 pm: West Bengal: Criminal Investigation Department (CID) takes over the investigation of Dum Dum Nagar bazar blast. on dead in the blast (ANI)
11:40 am: Three naxals have been killed in an encounter with District Reserve Guard at Dantewada-Sukma border, one gun recovered : SP Sukma Abhishek Meena (ANI)
11:07 am: Bhima-Koregaon case: Maharashtra government moves SC against the release of social activist Gautam Navlakha from house arrest.
10:53 am: Kerala nun rape case: Bail plea of Franco Mulakkal, former Bishop Jalandhar, rejected by Kerala HC
10:49 am : Delhi: Justice Ranjan Gogoi takes oath as the Chief Justice of India (CJI) at Rashtrapati Bhavan.
09:51 am: UP: Two men opened fire at policemen and looted their rifles in Muzaffarnagar, One Home Guard seriously injured
09:30 am: Sensex sheds 137.62 points in opening trade; Nifty at 10,954.90
09:09 am: Rupee hits all-time low of 73.34 against US dollar
08:57 am: Kolkata: Fire breaks out in the pharmacy department of Kolkata Medical College and Hospital. 10 fire engines and Kolkata police rushed to the spot. All the patients are safe.(ANI)
08:10 am: Indian national faces jail, canning for extortion in Singapore (PTI)
08:09 am: TDP MLC, MVVS Murthy, and three others killed in a road accident in Alaska, US on Tuesday 
05:59 am: Mumbai: 3 killed and five injured after a cement slab on well gave out under the weight of devotees. NDRF team has pumped out water of the well for the rescue ops. 
03:39 am:  'Kisan Kranti Padyatra' ends after Delhi Police allows farmers to enter Delhi and reach Kisan Ghat, the final destination of the protest march which started from Haridwar on September 23. 
12:56 am: US Secretary of State Mike Pompeo to meet Kim Jong Un in North Korea on Sunday, reports AFP quoting State Department 
12:08 am: Veteran Kurdish leader Barham Salih elected as the President of Iraq