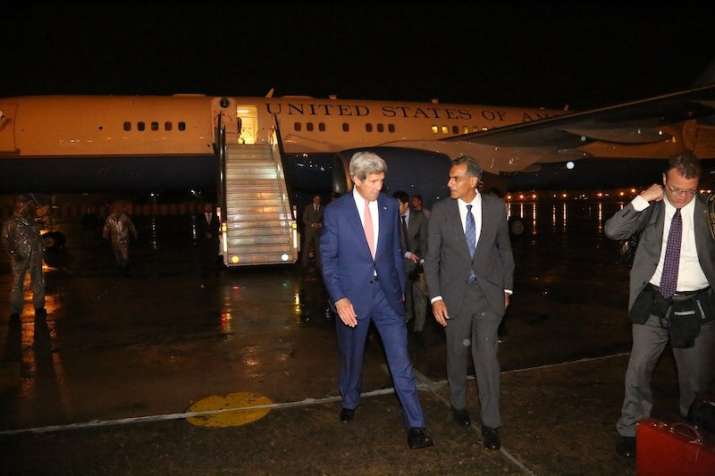 US Secretary of State John Kerry, who  arrived in New Delhi on Monday evening, got a taste of Delhi's infamous traffic jams, his cavalcade was stuck in the traffic snarl for an hour due to the waterlogging caused by heavy rain.
Though there was no official confirmation of the incident but officials at the traffic control room admitted that the roads to the city from airport were "clogged".
Kerry, who landed in the capital at 8 pm, was on his way to his hotel in Chanakyapuri when his convoy got stuck in a traffic snarl near Teen Murti Marg. 
Kerry's cavalcade was stuck near the Teen Murti crossing as the Shantipath-Teen Murti roundabout was waterlogged.Cops had to stop traffic on all the other stretches for half an hour to allow the cavalcade to pass
Journalist Nicolas Wadhams, who is accompanying Kerry on his tour to New Delhi, tweeted:"John Kerry stuck in traffic like everyone else on wet New Delhi night… Kerry's drive from the airport took two hours. More rain forecast for tomorrow,"
Senior journalist Steve Herman, with the Voice of America, tweeted, "Additional forces called out to try to get @JohnKerry motorcade through Delhi traffic after more than an hour."
However, the police later said that, contrary to reports, John Kerry wasn't stuck in a jam due to waterlogging. "He has been given Z-plus security and traffic on one corridor was cleared from IGI's technical area to New Delhi. There was traffic jam on adjacent roads due to his movement," an officer said.
Major stretches in the capital were waterlogged on a day that saw a good 21.6mm of rain since the early afternoon.
At Ring Road, traffic moved at snail's pace. So much so that a distance of 5km on the Ring Road in south Delhi took more than an hour-and-a-half to cover, commuters said.
Kerry arrived in the national capital to take part in the 2nd Indo-US Strategic and Commercial Dialogue which is to take place here on Tuesday where several important bilateral issues will be discussed.