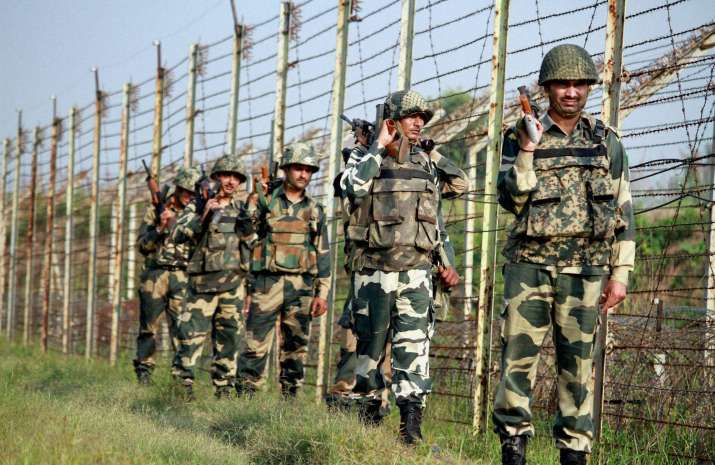 Security forces on Thursday foiled a major infiltration bid by a group of six militants along the International Border in Kathua district of Jammu and Kashmir.  
The terrorists, who were trying to infiltrate the border under the cover of cross-border firing by Pakistan, were spotted by BSF troops.  
Terrorists attacked a vehicle carrying BSF troops on patrolling with RPGs followed by heavy and indiscriminate firing at forward area Bobiya in Kathua around 2345 hours, an officer said. 
The vehicle was patrolling the borderline at the time of the infiltration bid, he said. 
BSF troops guarding the borderline retaliated using rocket propelled grenades, resulting in exchanges for over 20 minutes. 
When the BSF fired para bombs for illumination of the area, the militants escaped and were seen carrying an injured, the officer said.
The officer said that there was support fire from the Border Out Posts (BoPs) of Pakistan. Pakistan forces fired 25 rounds of small weapons and 2 small mortars.
"As BoPs is close by there is tactic support of rangers as well", the officer said.
"Everything is fine on our side", he said.
The number of infiltrations and ceasefire violations are on the rise after the Indian Army carried out surgical strikes in Pakistan occupied Kashmir (PoK) to destroy terror launching pads.
Pakistani troops have so far violated the ceasefire agreement more than 30 times since the operation. 
Home minister Rajnath Singh will hold an internal security meeting in New Delhi today to take a stock of increasing ceasefire violations and infiltration attempts from across the Line of Control (LoC).
Both the Army and BSF have said that they are prepared to deal with any misadventure from across the LoC by Pakistani troops or terrorists.