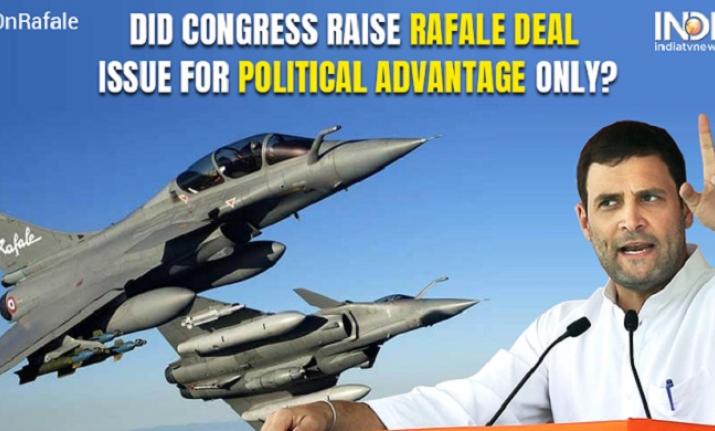 India TV conducted a poll over whether the Congress raised the Rafale deal issue for political advantage before assembly elections?
Interestingly, an overwhelming majority of those who participated in this poll believed that the Congress indeed raised this issue to take political advantage in the assembly elections to three states.
98.94% of the respondents on India TV website (www.indiatvnews.com) said YES to the question "Did Congress raise Rafale deal issue for political advantage before assembly elections?" Only  1.6% of the respondents said NO 
The same question was asked on Twitter. A whopping 85% said YES while  14% said NO. 1% of the respondents had no opinio.
The Supreme Court on Friday gave the Narendra Modi government a clean chit on the procurement of 36 Rafale fighter jets from France and dismissed all the petitions seeking a direction to the CBI to register an FIR for alleged irregularities in the deal. The apex court observed that it was not its job to look into the pricing of of fighter jets. 
A bench headed by Chief Justice Ranjan Gogoi said there was no occasion to doubt the decision-making process in the multi-billion dollar deal. On the issue of offset partner, the bench, also comprising Justices S K Kaul and K M Joseph, said there was no substantial evidence of commercial favouritism to any private entity.
The top court said there has been a necessity for fighter aircraft and the country cannot remain without jets. The CJI, who read out the judgement for the three-judge bench, said no reasons were found to interfere in the procurement process for the fighter jets.
The Congress continuously used the Rafale issue to target the government during campaigning for the just concluded Assembly elections in five states. Congress president Rahul Gandhi even went to an extent of calling Prime Minister Narendra Modi corrupt claiming that his personal involvement in the 'scam'.