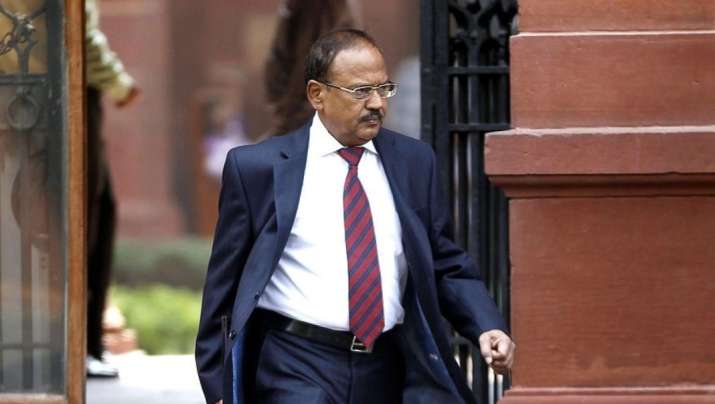 A 20-year-old picture is dominating the political debate in India. The Lok Sabha election campaigns often stoop to new lows but this time the topic raked reinvigorates horrific memories for every Indian. 
Congress chief Rahul Gandhi recently issued a photograph which showed the current National Security Adviser Ajit Doval escorting Jaish-e-Mohammed chief Masood Azhar to Kandahar. 
The terrorist, who is behind Pulwama terror attack and numerous other terror strikes against India in past decades, was in Indian captivity but had to be released after JeM and Taliban hijacked Indian Airlines' flight IC-814 with 173 passengers in December 1999. The hijackers demanded the release of Azhar in exchange of passenger safety. India agreed to the exchange. 
Also read | Rahul Gandhi attacks PM Modi, Doval over Kandahar hijack
Since it was a BJP government-led by Atal Bihari Vajpayee which decided to let the JeM chief go, Rahul Gandhi used the incident to slam the Modi government in the light of recent attacks. 
But what is the true story behind the Kandahar exchange? Did Ajit Doval really escort JeM chief back to Kandahar? Why did India take such a decision? An exclusive interview with Ajit Doval reveals it all. 
India TV did an interview with current NSA Ajit Doval on the 10th anniversary of the IC814 hijack in 2009. Here is what Doval revealed about the hijack incident: 
After the news of the hijack reached Indian authorities, a high-level crisis management team was formed, but Doval, who special director at IB at the time, was not part of the team. 
However, since he had special training and background in dealing with Kashmir counter-terrorism, he was asked to go to Kandahar for negotiations. Doval was at the Kandahar airport for 105 hours to negotiate passengers safety while being surrounded by Taliban. 
Also read | PM Modi should tell Pulwama victim families about who released Masood Azhar: Rahul Gandhi
What were the circumstances of negotiations: 
"In the Kandahar incident, we were dealing with a country with which we had no diplomatic ties. It was a foriegn territory and it was a land locked nation, so to go there we needed to use Pakistani airspace, which they did not allow us to use. In fact they made it difficult to even fly to Kandahar for negotiations," Doval revealed. He said during the interview that, on the ground, Taliban had enveloped the airport where the plane was parked with tanks, suicide bombers, volunteers, anti-aircraft guns. 
Why was a commando operation not possible:
"When we were at the Kandahar airport, our passengers were not only being threatened by the terrorist on-board the plane, but the bigger danger was Taliban. If we were to attack hijackers in any way we would have to also deal with the Taliban and its forces which had overtaken the airport. Attacking an entire airport would have been like attacking a country, and even if were to so hypothetically, the first casualty of such an action would have been the aircraft," he said. Even if we were to take a coercive action, we would have required support and access route, which was not coming from Pakistan, a possible route from alternate nations like Iran and due planning would have taken time, which made things difficult, he said. 
Domestic pressure of negotiations: 
The hijackers had demanded the release of 36 terrorists lodged in Indian jails, along with Rs 200 crores in exchange of the passengers. Doval revealed during the interview that he wanted to deal with the terrorist with a strong hand but with ticking time Indian government started reeling under the media pressure and protests by the families of the passengers. All this while, Pakistan's intelligence agency was fueling the fire by passing on all the information to the terrorists. 
"Toughest bit about negotiations was that hijackers were aware of what was happening in  Delhi, Mumbai, outside PM's house as ISI was feeding them information. They knew that the Indian government was under pressure. They knew they had the upper hand. They could have dragged the negotiations for four months. But for us every minute was precious."
How negotiations transpired: 
"The demand of money was dropped by the hijackers after a brief argument and also after Mullah Omar termed taking money un-Islamic. But the other demands were raised later. For the first one and a half day, they did not have a clear agenda. They were asking us to remove soldiers from Kashmir. But eventually, when they were asked to give specific demands, they gave three demands," Doval said in the interview. The three demands were - release of 36 terrorists, exhuming of Sajjad Afghani's body and 200 million dollars. The last two demands were dropped after Indian negotiators pointed out that they were un-Islamic. 
Why did India decide to let 36 terrorists go:
During an interview with India TV in 2009, Ajit Doval revealed that at the time of negotiations with hijackers they had two options. One, they forget about the plane, the passengers, the pressure on the government for their release and take a principle position not to negotiate with terrorists, irrespective of human losses. Second, we could try to minimise loses and do something which we may be discredited. 
A commando operation was possible without the ground support but it would have been impossible if they were facing resistance at the ground as well, he revealed, adding that if Taliban had said that India can act freely to rescue passengers we could have done that successfully. But when Taliban refused to help, we had to act to minimise our losses. 
No passenger hurt during negotiations: 
Ajit Doval revealed that while the negotiation continued for six days, they were able to keep hijackers engaged and make sure not even one passenger suffered any further injury. Doval said that hijackers were at an advantage as they could easily leave the plane and blow it to pieces, but negotiators did not let that happen. 
The deal 
After 105 hours of negotiations, the hijackers finally agreed to let the passengers of IC-814 walk in exchange of three terrorists - JeM chief Masood Azhar, Ahmed Zargar, Sheikh Ahmed Omar. Then Foreign Minister Jaswant Singh escorted the terrorists to Kandahar himself. 
Watch full exclusive interview of Ajit Doval on IC-814 hijacking on India TV: