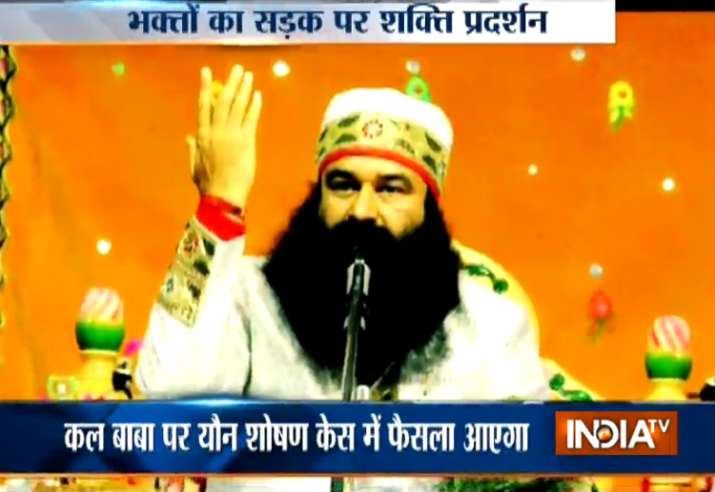 Amid fears of law and order situation in Chandigarh ahead of verdict on Dera Sacha Sauda chief Gurmeet Ram Rahim Singh, the sect said that followers are not heeding to the pleas by the Dera. Lakhs of followers of Ram Rahim Singh have gathered in Panchkula ahead of the Friday verdict in a rape case against the Dera chief. The sect on Thursday said the people are defying the appeal for peace. 
Speaking to India TV, Dera spokesperson Aditya Insan today said, "People who are arriving in Panchkula have said that they would not heed the pleas of the Ashram. They are in a defying mode. Just yesterday, our stat level representative was beaten up. Since August 17, when the media hype started to build up, Guruji (Ram Rahim Singh) has appealed to sewadars that our way is different. Guruji's way is of love, peace and goodwill."
"But somewhere people are angry because of the tortures that have taken place in the last 15 years," he said.
The spokesperson said people have rejected Dera chief's plea which is very unfortunate. 
Meanwhile, Dera chief has said that he will appear before the court on Friday. 
हमने सदा क़ानून का सम्मान किया है।हालाँकि हमारी back में दर्द है,फिर भी क़ानून की पालना करते हुए हम कोर्ट ज़रूर... https://t.co/KpTEsCSiUV

— Dr.GURMEET RAM RAHIM (@Gurmeetramrahim) August 24, 2017
"I have always respected the law. Although I am suffering from back pain, I will go to the court. I have complete faith in God. Please maintain the peace," he said on Facebook and Twitter.  
Dera Sacha followers have threatened with "rivers of blood" if the verdict is not in favour of Ram Rahim Singh in a sexual exploitation case. The case was registered in 2002 by the CBI on the directions of the Punjab and Haryana High Court after anonymous letters were circulated about the alleged sexual exploitation of two sadhvis (female followers) by Gurmeet Ram Rahim Singh. However, the Dera chief has denied these charges.  
A special CBI court in Panchkula will pronounce the judgment on August 25 and Dera chief has also been asked to appear in person before the court on the same day.
High alert in Punjab, Haryana
Haryana and Punjab have been put on high alert and prohibitory orders imposed ahead of the court verdict. State authorities have sought out Centre's help in maintaining law and order and have not ruled out taking Army's help.
The Centre has also assured all possible help to the Punjab and Haryana governments to deal with any situation. "We are in regular touch with the governments of Punjab and Haryana. Whatever help is required, will be provided," a home ministry spokesperson said in Delhi. 
Security forces were carrying out flag marches at many sensitive places in both the states. Paramilitary forces have already reached Punjab and Haryana and many more are on way to sensitive places there. 
Terming the situation dynamic, Haryana Additional Chief Secretary (Home) Ram Niwas said the state has got eight additional companies of paramilitary forces and an additional 2,500 police personnel from internal sources have also been mobilised for deployment in different parts of the state.
Responding to reporters' questions, he said, "The state government would also call in the Army, if necessary, impose curfew according to time and circumstances and initiate all steps required to maintain law and order in the state." 
The state administration is continuously in touch with Dera followers for maintaining peace, Niwas said. 
The Haryana government said except for offices of essential services, August 24 and 25 would be observed as gazetted holidays in government offices, boards, corporations, and banks in Sectors 4, 5 and 6 of Panchkula only.