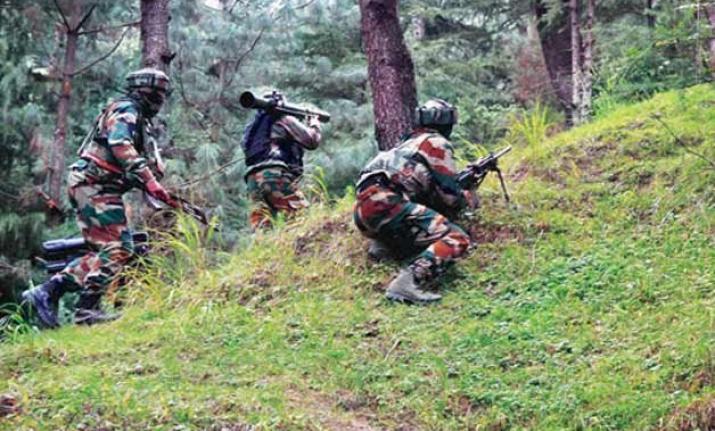 Four terrorists were today killed in a gunfight with security forces in the Sunderbani area of Jammu and Kashmir's Rajouri district, the police said.
The militants had infiltrated into the Indian territory from across the Line of Control (LoC) about four-five days ago, prompting security forces to launch a search operation in the area.
Authorities had ordered the closure of educational institutions in the Sunderbani tehsil in view of the search operation.
"Four terrorists have been killed in the encounter," J&K's DirectorGeneral of Police (DGP) S P Vaid told PTI.
No injury was reported to anyone in the gunfight with the terrorists, he said.
The encounter broke out in the Nowshera-Sunderbani belt after the group of infiltrating terrorists was intercepted by the security forces early today, the DGP said.
SSP, Rajouri, Yougal Manhas said three bags containing ammunition and explosives were recovered from outside a CRPF camp in Sunderbani.
According to reports, a security guard manning the gate of the CRPF camp at Sodra fired warning shots and raised an alarm on detecting suspicious movement near the paramilitary facility.
Manhas said the police and other security forces had been conducting a combing operation to track down the militants for four to five days.
CRPF PRO Ashish Kumar Jha denied media reports that the terrorists had attacked the paramilitary CRPF camp in Sunderbani.
Earlier in the day, Deputy Commissioner, Rajouri, Shahid Iqbal Choudary ordered the closure of all educational institutions in the Sunderbani sector in view of the search operation.
Last night, two terrorists had entered the house of Bushan Kumar Sharma in the Bunpori-Yoginallah area in Sunderbani and forced the family to prepare food for them, according to reports.
Police officials said the terrorists were continuously changing hideouts to dodge the police.
This is the second biggest terror incident in the Jammu region this year.
On February 10, a group of militants had attacked the Sunjwan Army camp, killing five jawans and a civilian. Three terrorists were also gunned down by the security forces.