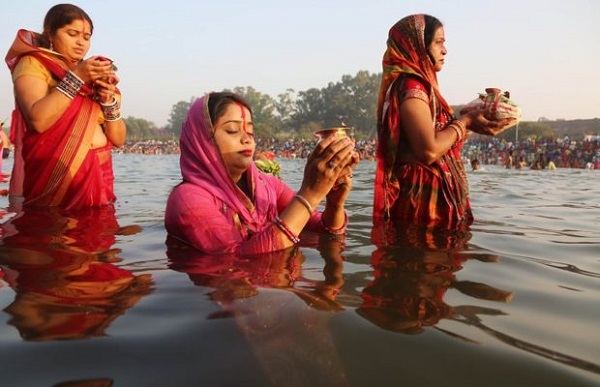 Chhath 2017 is dedicated to the Sun God or Lord Surya. It is a four-day festival, in which Lord Surya is worshipped. The Jeet, who is considered as the god of energy is also worshipped during Chhath festival to pray for well-being and prosperity. This year, Chhath Puja is being observed from 24th October 2017 to 27th October 2017. Womenfolk observe fast to pray for the safety and well-being of their children and the happiness of their family. Chhath is observed in the Indian states of Bihar and adjoining country Nepal. Chhath Puja is also known as Pratihar, Dala Chhath, Chhathi and Surya Shashthi by many people.
Chhath 2017 Dates
Chhath puja is performed on Kartika Shukla Shashthi. It is the sixth day of the month of Kartika in the Vikram Samvat. It usually falls in the month of October and November. The exact date of Chhath puja is determined by Central division of Janakpurdham in Mithila Region of Nepal, to which everyone adheres.
Chhath Puja 2017 Schedule
The worshipping of Sun God extends to four days. The first day is known as Nahay Khay. Devotees take holy dip in the water, especially river Ganga. Women folk have food only once throughout the day.
The second day of Chhath schedule is known as Kharna. On this day, women fast without water from sunrise to sunset. Food is offered to Sun God, after which is fast is broken.
The third day fast begins having the Prasad from the second day puja. Third day is the main day of Chhath puja. A full day fast is observed without having water. Arghya is offered to the Sun God while the sun is setting. The third day fast continues throughout the night. Parana is performed on the next day after sunrise.
On the fourth and final day of Chhath, Arghya is offered to the rising sun. It is also known as Usha Arghya. The 36-hours-long fast is broken after performing Arghya.
Chhath Puja 2017 Calendar
Here is the complete calendar of Chhath Puja 2017.
Day 1 (Chaturthi)
Nahay Khay
Sunrise at 06:27
Sunset at 17:43
Day 2 (Panchami)
Sunrise at 06:27
Sunset at 17:43
Day 3 (Shashthi)
Chhath Puja, Sandhya Arghya
Sunrise at 06:29
Sunset at 17:41
Day 4 (Saptami)
Usha Arghya, Parana Day
Sunrise at 06:29
Sunset at 17:40