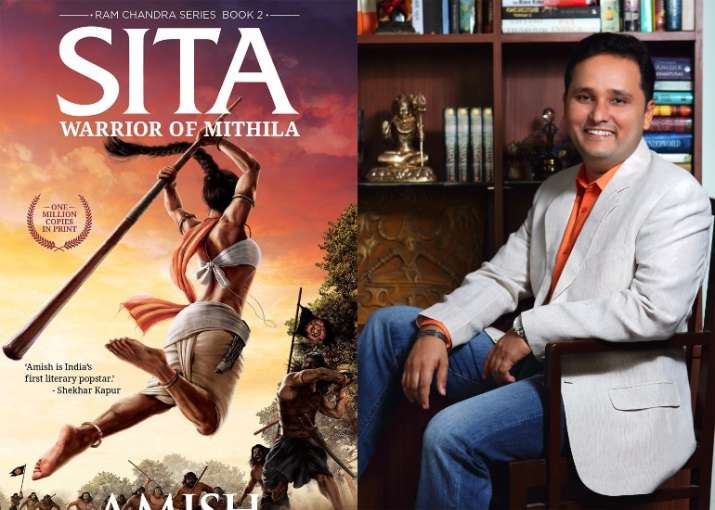 Mythological fiction fans have been waiting for the next installment of Amish Tripathi's Ram Chandra series with a bated breath. The cover of Amish's upcoming book 'Sita-Warrior of Mithila' was revealed yesterday. And it's nothing like you've imagined. 
Defying the conventional image of Sita, the new book portrays her as a feminist icon and captures the fearless warrior in her.
Here comes the fearless warrior.
Presenting, the official book cover of #SitaWarriorOfMithila!
Pre-order your copy: https://t.co/VU98k5A2ol pic.twitter.com/u6VZe1iLZz

— Amish Tripathi (@authoramish) May 3, 2017
The cover sees Sita as a powerful lady, with her lathi, single-handedly fighting a crowd of men, who have come to abduct her.
Commenting on the cover launch for the book, Amish said, "Ancient India witnessed a far more equal social set-up than we have today. The cover depicts Lady Sita to be a fearless warrior and the book will capture her journey from an adopted child to a fierce warrior and then becoming a Goddess."
Raveena continued saying, "In ancient India, women held positions of power and led countries as queens and fiercely fought on the battlefield. They enjoyed more freedom and respect from the society. It is great to see that Amish is bringing that alive through Lady Sita and the cover beautifully illustrates her as a true warrior."
On this note, the first book of the Ramachandra seires is 'Scion of Ikshvaku,' released in 2015.
Many took to Twitter for wishing Amish for the successful launch of ' Sita-Warrior of Mithila' cover. Smriti Irani praised the work of Amish Tripathi.
Congratulations @authoramish , amazing cover. Best wishes. https://t.co/PkdINyMVGY

— Smriti Z Irani (@smritiirani) May 3, 2017
Shashi Tharoor also couldn't stop himself from feeling awe of Sita's new image. He tweeted: 
Fabulous cover! Kudos to @authoramish whose 1st two novels I had the pleasure of launching in Delhi https://t.co/LDW3U9nKXp

— Shashi Tharoor (@ShashiTharoor) May 4, 2017
Renowned Indian author, Durjoy Dutta also passed on his best wishes to his fellow author through a tweet. 
That looks awesome! https://t.co/pnVmKBSK3c

— Durjoy Datta (@durjoydatta) May 3, 2017
Anupam Kher took to Twitter to appreciate the fabulous work by Amish. 
Powerful & Mysterious. Love it.👍 https://t.co/LJuYX0qEkN

— Anupam Kher (@AnupamPKher) May 3, 2017
(With Inputs from ANI)