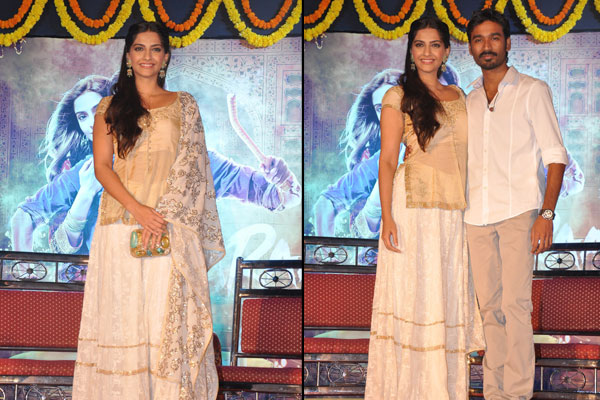 Mumbai: Bollywood actor Sonam Kapoor and Kolaveri Di fame actor Dhanush who debuts in Bollywood with Raanjhanaa began  their movie promotion in Mumbai on Friday.
Sonam and Dhanush are playing young  lovers in 'Raanjhnaa'  and during the promotion their chemistry was evident to onlookers.  
The Kapoor girl stood by Dhanush and helped him to diplomatically answer the questions, asked by media. Both the actor talked about their school days love.
The makers have created an entire set resembling Varanasi at Film City in Goregaon to symbolize the spirit of the film. Sonam and Dhanush made their entry riding a chariot, and performed on the title track of the film.  
Aanand Rai, director of the filmm said, this was one of the most desi (Indian) entries of all time.
And producer Krishika Lulla said, "We wanted to do something that represented the essence of the film and its setting, hence the idea of having an event in true Banarasi style. We want the audience to experience the real flavour of the film and return home with it."
Watch Pics--: