Follow us on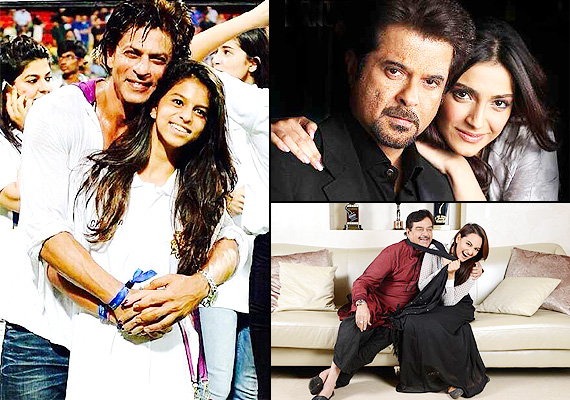 New Delhi: Father is the first super hero of any girl. Be it in India or anywhere in the world, the tender and love with which a father shapes his girl remains unmatched by any other man for the rest of the girl's life.
A girl too wants her life partner to possess the qualities of her father. For the first time when she starts knowing the world around her, she realizes it's her father embracing her in all the highs and lows, preparing her to face the world alone.
Our b'town celebs too enjoy this raving father-daughter relationship. Bollywood's doting fathers and daughters are the one who never escape any chance to express their love for each other in public.
While a few fathers even deem that they love to be called out by the name of their daughters.
Here follows the list of a few adorable father-daughter dup of Bollywood. Take a look!
Shah Rukh Khan and Suhana
Considered as one of the most loving dads of the indutry, Shah Rukh has many a time mentioned that his daughter Suhana is his strength. Time and again, he has been expressing his love for daughter through Twitter, Recently too, he posted a picture with Suhana on the social networking site during
IPL
7.
Anil Kapoor and Sonam Kapoor
Anil Kapoor enjoys the stature of being the proud father of Bollywood fashionista, Sonam Kapoor. This father-daughter pair looks enchanted whenever they give any public appearance. Recently, when the duo graced the popular TV chat show, their bonding and ecstasy was seemingly evident.
Shatrughan Sinha and Sonakshi Sinha
Another popular father-daughter pair of Bollywood, Sonakshi Sinha and Shatrughan Sinha needs no flowery words to describe the intriguing chemistry that they shares.
Sonakshi has often being seen replicating her dad's 'khamosh' style and was recently honoured to present a Life-time achievement award to father at the IIFA held this year.
Mahesh Bhatt and Alia Bhatt
Alia Bhatt, who has carved a niche for her success in Bollywood feels proud that she had always enjoyed the support of her director father, Mahesh Bhatt.
Mahesh Bhatt too feels emotional whenever he is addresses by someone as 'Alia's father.' The bonding between the dup is more like of friends and Alia often asks for advices and guidance from her loving father.
Amitabh Bachchan and Shweta Nanda
Amitabh and daughter Shweta Nanda do not usually make public appearances together, but when they do, their raving chemistry and silent bonding comes hand-in-hand for the shutterbugs.
Both Amitabh and Shweta spill royalty whenever they appear together.
Prakash Padukone and Deepika Padukone
An athlete father-daughter couple, Deepika and dad Prakash seem to be a rocking pair whenever captured together. Recently, as Deepika went on the stage to receive a prestigious recognition, she got emotional to see she was being handed over the award by his father himself.
Such a great camaraderie this duo shares that Deepika still pplays badminton with her dad whenever she is in stress.
Randhir Kapoor and Kareena Kapoor
One of the coveted Kapoor's jodi, Kareena and father Randhir justify a cute father-daughter pair in Bollywood. Kareena thoroughly resembles her dad and Randhir too makes sure to shower his love and blessings over the younger daughter whenever in public or otherwise too.
Abhishek Bachchan and Aaradhya Bachchan
Though the little daughter has usually been spotted with mother Aishwarya, Abhishek too keeps a cozy watch over baby B.
The actor feels Aaradhya to be his lucky charm and always thank God in his speeches for blessiing him with a daughter like Aaradhya.
Randhir Kapoor and Karisma Kapoor
Bollywood veteran, Randhir Kapoor is blessed with two gorgeous daughters, Kareena and Karisma.
While with Kareena, he shares quite a happy-go-easy chemistry, it's Karisma with whom he discusses the intense matters.