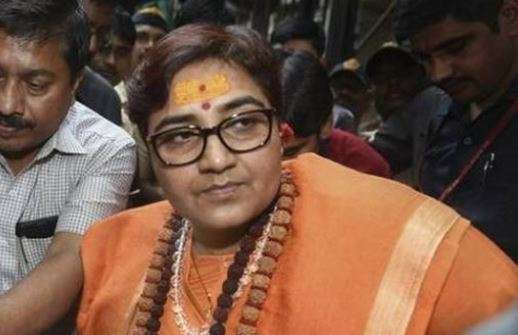 Bharatiya Janata Party's Lok Sabha candidate Pragya Thakur apologised and withdrew her controversial statement on 26/11 Mumbai terror attack martyr Hemant Karkare on Friday.
Pragya Thakur had evoked strong reactions when she said that Hemant Karkare died after she "cursed"  him. Karkare was Mumbai ATS chief when Thakur was arrested in relation with Malegaon blast case.
On Friday, Thakur said that she was taking back her words as "...enemies of the country were being benefited from it (her statement)..." . She was quoted by ANI.
Pragya Singh Thakur, BJP LS candidate from Bhopal, on her statement on Mumbai ATS Chief late Hemant Karkare: I felt that the enemies of the country were being benefited from it, therefore I take back my statement and apologize for it, it was my personal pain. pic.twitter.com/j7pzrKf6G5

— ANI (@ANI) April 19, 2019
Huge public outcry followed after Thakur's initial comment. People took to social media and expressed displeasure about her comments on Hemant Karkare who died fighting terrorist Ajmal Kasab during 26/11 Mumbai terror attacks. 
Bharatiya Janata Party on Friday distanced itself from Pragya Thakur's statement and said that it was a personal statement by her. 
"The BJP believes that Karkare died while bravely fighting terrorists. The BJP has always considered him a martyr, " the party said in a damage-control exercise. 
In 2008, Malegaon blasts killed several people and injured many. The investigation into Malegaon blasts was led by Hemant Karkare. A motorcycle was used to carry out the blasts. Karkare tracked ownership of the motorcycle to Sadhvi Pragya Singh and she was arrested along with other accused. National Investigation Agency (NIA) gave a clean-chit to Pragya Singh but she was not discharged by the court. 
BJP has fielded Pragya Thakur from Bhopal. She will face-off Congress' Digvijay Singh during ongoing Lok Sabha Elections.
Also Read | Pragya Thakur's comment on Karkare her personal view, Karkare a martyr: BJP
Also Read | Sadhvi Pragya shocker on 26/11 martyr: Cursed him for treating me badly
Watch | Aaj Ki Baat with Rajat Sharma | April 19, 2019