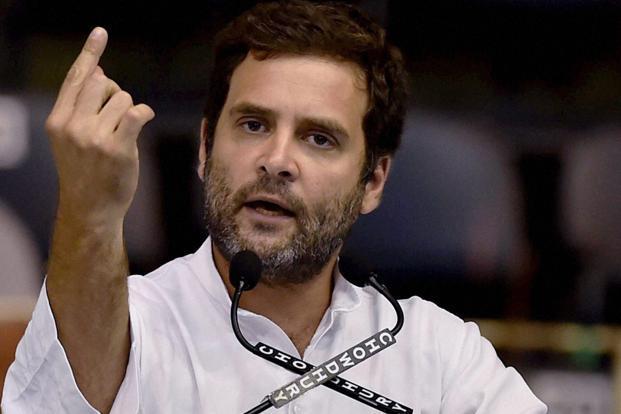 After taking a jibe at high GST (Goods and Service Tax) rates and its implementation by terming the new indirect tax regime as 'Gabbar Singh Tax', Congress vice-president Rahul Gandhi on Thursday fired another salvo at PM Modi ahead of the crucial Gujarat Assembly Elections, this time on the plight of farmers.
In his ninth question to PM Modi, the Gandhi scion who has been attacking the PM over various issues in "a question a day" series on Twitter, used a similar tag line -- 'Kheti Par Gabbar Singh Ki Maar'. The Congress leader questioned the prime minister on farmers' woes and asked him about his step-motherly treatment towards farmers.
In a scathing attack on the prime minister, Gandhi said the agrarian society was deprived of crop insurance. He also alleged that farmers did not get right prices and the government failed to wave off the loan.
22 सालों का हिसाब#गुजरात_मांगे_जवाब

प्रधानमंत्रीजी- 9वाँ सवाल:

न की कर्ज़ माफ़ी
न दिया फसल का सही दाम
मिली नहीं फसल बीमा राशि
न हुआ ट्यूबवेल का इंतजाम

खेती पर गब्बर सिंह की मार
छीनी जमीन, अन्नदाता को किया बेकार

PM साहब बतायें, खेडुत के साथ क्यों इतना सौतेला व्यवहार?

— Rahul Gandhi (@RahulGandhi) December 7, 2017
The tweet comes a day after the Congress vice-president thanked the Bharatiya Janata Party (BJP) for pointing out mistakes in his seventh tweet question over inflation, saying that "unlike" PM Modi he was "human" and did make the odd mistake. He even asked the saffron party to "please do keep it coming".
"For all my BJP friends: unlike Narendrabhai (Prime Minister Narendra Modi), I am human. We do make the odd mistake and that's what makes life interesting. Thanks for pointing it out and please do keep it coming, it really helps me improve. Love you all," Gandhi had said.
The Assembly elections in Gujarat will be held in two phases on December 9 and 14. Voting in 89 constituencies of Saurashtra and South Gujarat region will be held in the first phase while the remaining 93 constituencies in central and northern regions will be held in the second phase. The counting of votes will take place on December 18, along with that of Himachal Pradesh.