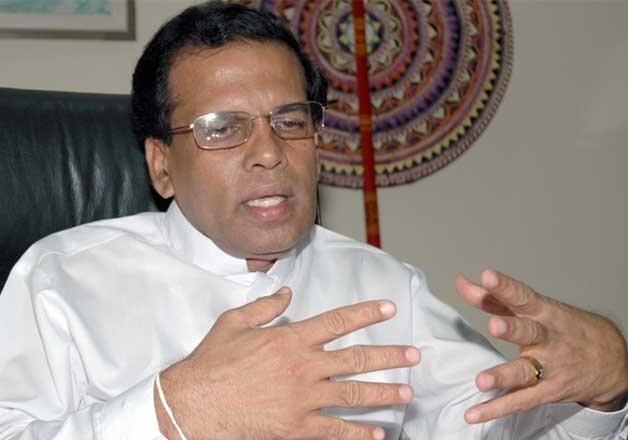 Colombo: Sri Lankan President Maithripala Sirisena today said Prime Minister Narendra Modi's call to implement the 13th Amendment would be taken up after the next parliamentary election and asserted that finding a solution to the vexed Tamil issue remains a priority for his government.
Speaking to top newspaper editors and media heads at the Presidential Palace here, three days after Modi's historic visit to Lanka, Sirisena said he will call a parliamentary election after adopting the 19th Amendment to the Constitution which will be presented in the Parliament next week.
This would mean that Sri Lanka would hold the parliamentary poll after April 23 as pledged in Sirisena's 100 day programme.
Sirisena said finding a solution to the ethnic Tamil issue remains a priority for his government.
The 19th Amendment seeks to reduce the terms of office of the President to five years, instead of the current six years and unlimited term.
Other possible provisions that could be included in a 19th amendment would limit the powers, given to provincial councils under the 13th constitutional amendment (13A), by which they exercise control over the police and over land issues.
Voicing India's support to efforts to build a future that accommodates the aspirations of all societies, including Tamils for a life of equality and dignity in a united Lanka, Modi had said: "We believe that early and full implementation of the 13th Amendment and going beyond it would contribute to this process."
India has been pressing Sri Lanka to implement the 13th amendment on devolution of powers in "letter and spirit" and to fulfill the aspirations of the ethnic Tamils.
Tamil diaspora groups who were earlier seen as anti-Lanka now appear willing to work with the new Sri Lankan government, Sirisena said.
Some of the Tamil groups came to see him in London last week, he added.
"They spoke in Sinhala and told me that they were willing to engage with government on finding a solution to the Tamil question," Sirisena said.
Sirisena said that during his visits abroad and since his discussions with leaders visiting Sri Lanka after he took over as President, he noticed the magnitude of the challenges Lanka is faced with internationally.
"We have to face this challenge. We have to settle our internal issues. For that a National Government is essential as then we can work out an acceptable solution," he said.
Sirisena added: "We should accept the presence of diverse opinions on this matter. We must find ways to reach a majority consensus to solve this issue if we want to ensure that there will not be another war in our lifetime. The media too have an important role in this and they should take this into serious consideration."
The President said his government, in the short time since early January, had managed to turn the international opinion on Sri Lanka.
"I was received very warmly by the Queen and the (British) Prime Minister Cameron. Winning over Britain was winning the whole European Union," Sirisena said.
In a separate development, Foreign Minister Mangala Samaraweera said the government may lift the ban on Tamil diaspora groups imposed by the previous Mahinda Rajapaksa government.
Samaraweera told parliament that building national reconciliation was important and Sinhala, Tamil or Muslim diaspora groups have a role to play in taking Sri Lanka forward as a nation.