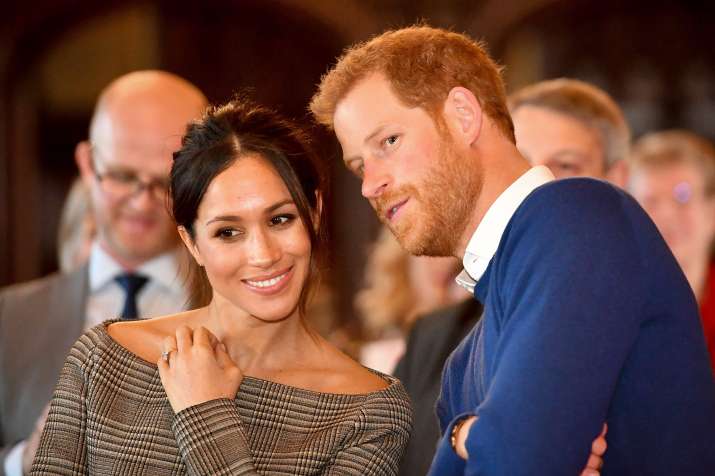 The royal wedding of Britain's Prince Harry and Meghan Markle is all set to happen next month and the preparations are in full swing. But do you know there is Mumbai connection to this royal wedding? Well, Harry and Markle have chosen a charity working for women in Mumbai's slums among a handful of organisations that will receive donations in place of gifts for their wedding. 
Myna Mahila Foundation is among seven charities hand-picked by the couple as they announced that anyone who might wish to mark their wedding day on May 19 should consider making a donation to one of the charities, rather than sending a wedding gift. The foundation, which aims to offer Mumbai women stable employment close to their homes as well as breaking taboos around menstrual hygiene by offering them access to low-cost sanitary napkins, was chosen by Markle after she saw its work "first-hand" during a visit to India last year, the Kensington Palace said. 
Read More: After being forced to quit social media, Meghan Markle missing online friends
"Myna Mahila Foundation is delighted to be a part of this special occasion for Meghan Markle and Prince Harry. This support will enable us to expand our reach into more urban slums in Mumbai, empowering local women through access to menstrual hygiene products and employment opportunities," said Suhani Jalota, who founded the charity in 2015. The foundation works as a "trusted network" in Mumbai's urban slums, empowering its staff through training in women's health, English, Maths, and life skills such as self-defence. The sanitary products are manufactured and distributed by women from these communities as part of wider professional and personal support to help them "grow as individuals and businesswomen". 
Markle had written about the charity in 'Time' magazine after her visit to Mumbai in March, 2017. "During my time in the slum communities outside of Mumbai, I shadowed women who are part of a micro finance system where they manufacture sanitary napkins and sell them within the community," the American actress wrote. "The namesake of the organisation, Myna Mahila Foundation, refers to a chatty bird ('Myna') and 'Mahila' meaning woman. The name echoes the undercurrent of this issue: we need to speak about it, to be 'chatty' about it," she said. 
Read More: Everything you need to know about Meghan Markle and Prince Harry's nuptials
Kensington Palace said Harry and Markle do not have any formal relationships with the charities chosen. "The couple have chosen charities which represent a range of issues that they are passionate about, including sport for social chon, the environment, homelessness, HIV and the armed forces. Many of these are small change, women's empowerment, conservatories, and the couple are pleased to be able to amplify and shine a light on their work," the palace statement said. The other charities chosen include the Children's HIV Association (CHIVA), which supports children growing up with HIV and their families across the UK and Ireland, Crisis - the UK's national charity for homeless people, Scotty's Little Soldiers - a charity for bereaved Armed Forces children, StreetGames, which uses sport to change lives across Britain, Surfers Against Sewage - a UK-based marine conservation and campaigning charity, and the Wilderness Foundation UK, which promotes the benefits and enjoyment of wild nature. 
Harry, 33, fifth-in-line to the British throne, and Markle, 36, are set to get married in a ceremony at St George's Chapel at Windsor Castle on May 19. 
They had earlier revealed that their wedding flowers will also be given to different charities after the occasion.
(With PTI inputs)
For all latest news, keep checking our Facebook page