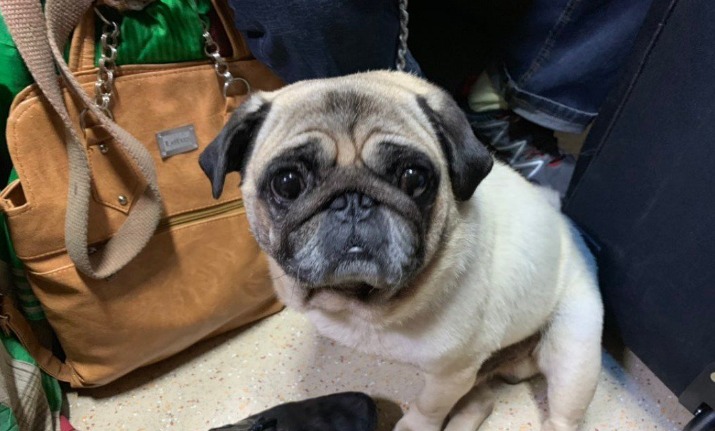 We know about network woes on a moving train. Standing on the door to spending time in toilet, we've done it all to get over one sentence clearly on the other side. Texting can be the real pain in moving trains. While waiting for a reply, you see that you message status reads 'sending failed' due to network issues. It seems like we're not the only one who are miffed by coming and going network while travelling in trains. Union Minister Babul Supriyo found a new and ingenious trick to deal with the flickery network in the trains.
In a funny, sarcastic tweet he posted on Tuesday, Babul Supriyo shared a picture of his pet pug Eddie sitting on a berth of Rajdhani Express. He wrote, "I took my Puggie Eddie with me on Rajdhani hoping Vodafone network wud follow him though the journey - afterAll he is their Brand Ambassador that's what they claim in their commercials !!"
Babul Supriyo was making reference to Vodafone's famous advertisement You and I, which had a cute pug following a boy everywhere just like Vodafone's network (as they claimed!) The tweet went viral with many Twitterati sharing their own network woes.
Here's how they reacted
🤣🤣🤣... It seems u've misunderstood d ad. They claim-"where ever YOU go,he will follow.." And it does.. He was with u,throughout d journey..

— Sudipa Chatterjee (@sudiparannaghor) November 27, 2018
😀😀 nice analogy sir!🙏

— Rahul Sharma 🇮🇳 (@RS_swaraj) November 27, 2018
Woo so cute ...

— CHOWKIDAR DIPANKAR...DAS.. (@g_bjym) November 27, 2018
Babul Sir, Vodafone's network was present on the train following your Rajdhani. Vodafone's network always claimed to follow you but never claimed to be with you. 😂

— ΓIGHTSTEΓ (@TheRightster) November 27, 2018
Times HOW? 😀 https://t.co/mZdeDRPwqg

— Babul Supriyo (@SuPriyoBabul) November 27, 2018
The tweet is now deleted but the snapshots of the tweet is doing rounds on the internet.