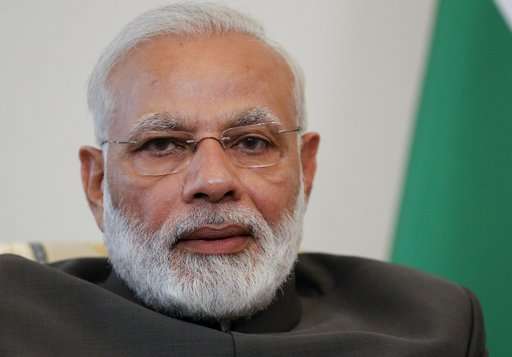 Pitching for double-digit GDP growth for India, Prime Minister Narendra Modi on Friday said that the country's share in world trade has to more than double to 3.4 per cent.
The prime minister further said that his government has taken steps in last four years to ease the process of doing business in India while maintaining macroeconomic indicators like inflation, current account deficit (CAD) and fiscal deficit within limits. 
"The need of the hour is that we should work towards achieving the target of double digit growth from 7-8 per cent," PM Modi said after laying the foundation stone of Vanijya Bhawan, a new office complex of the Ministry of Commerce in New Delhi.
After scaling these positive macroeconomic indicators, what next, the Prime Minister asked. 
The prime minister further said GDP growth touched 7.7 per cent in the last quarter of 2017-18 fiscal, adding the time has come to look beyond 7-8 per cent growth and target double-digit expansion. 
The Prime Minister emphasised the need for increasing exports and said that states must be made active partners in this effort. 
He said the Department of Commerce must resolve to raise India's share in total global exports to at least 3.4 percent, from the current 1.6 per cent.
Similarly, he said, efforts must be made to raise domestic manufacturing output to reduce the dependence on imports. In this context, he gave the example of electronics manufacturing. 
The Commerce Ministry as well as trade and industry should take up the challenge of double-digit GDP growth and doubling India's share in global trade, he said.
Listing out the achievements of his government, he said the country has moved away from a culture of delaying work through 'atkana, latkana and bhatkana' (obstructing, delaying and misguiding). 
The Goods and Services Tax (GST), which replaced over a dozen indirect taxes from July 1 last year, has led to not just ease of doing business but also an increase in the tax base, he said. 
Modi said 54 lakh new taxpayers have sought registration under the new regime, taking the number of indirect tax payers to over one crore. 
This compares to 60 lakh indirect tax payers in the pre-GST era, the Prime Minister said. 
Foreign direct investment inflows as well as foreign exchange reserves are at record highs, he added. 
Modi also expressed confidence that Vanijya Bhawan will be completed well within the stipulated time. 
He emphasised that this would be in keeping with the spirit of 'New India' and moving away from old practices, under which important building projects, even in the capital, had been inordinately delayed. 
In this context, Modi mentioned the Dr. Ambedkar International Centre, Dr. Ambedkar National Memorial, the Pravasi Bharatiya Kendra and the new office building for the Central Information Commission. 
This, Modi said, is also the result of breaking silos within the working of the government.
Watch: PM Modi pitches for doubling GDP growth
(With PTI inputs)