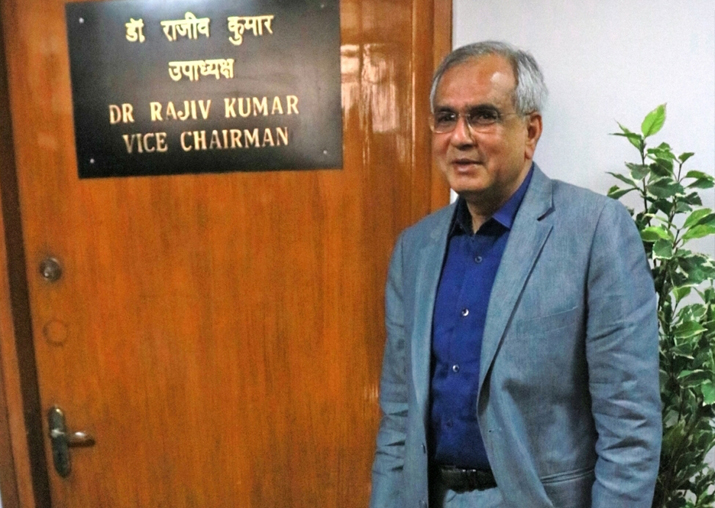 NITI Aayog Vice Chairman Rajiv Kumar on Wednesday said that the economic slowdown which began in the last two years of UPA II regime has bottomed out and the next two quarters will show some improvement in the growth rates. 
He also admitted that there have been problems on account of demonetisation and Goods and Services Tax (GST) implementation. However, he added that now people have adapted to the new tax regime. He further noted that all countries which adopted GST have gone through some decline in the growth rate.
As per the latest Gross Domestic Product (GDP) figures, India's economic growth rate slipped to a three-year low of 5.7 per cent in the first quarter of the current fiscal.
"We will be achieving higher growth in the next two quarters, and I think 2018-19 will be much better than the current year (in terms of economic growth)," he said at the AIMA diamond jubilee convention here.
Kumar pointed out that in manufacturing and services PMI, the lowest point reached in July and therefrom it has started rising. He noted that historically countries which have adopted GST have all seen some decline in the growth rate because the system struggles to come to the new norm.
"This formalisation of economy is going to take some cost," he observed.
Applauding Modi government's performance, Kumar said India has attracted foreign direct investment (FDI) worth USD 250 billion in the last three years. He also said Indian industry must serve national interest and not only the interests of some segments of the society. Kumar also emphasised on the need of creating trust between government and industry.
Noting that Indian industry must embrace global cutting-edge technology, the NITI Aayog Vice Chairman said one should think at a global level and not just for domestic consumers. He also suggested that NITI Aayog work more with states.
Earlier speaking at the same event, NITI Aayog CEO Amitabh Kant said India cannot grow without gender parity as currently only 24 per cent of GDP comes from women. Kant also said it is important to have consistency and predictability in government policies.