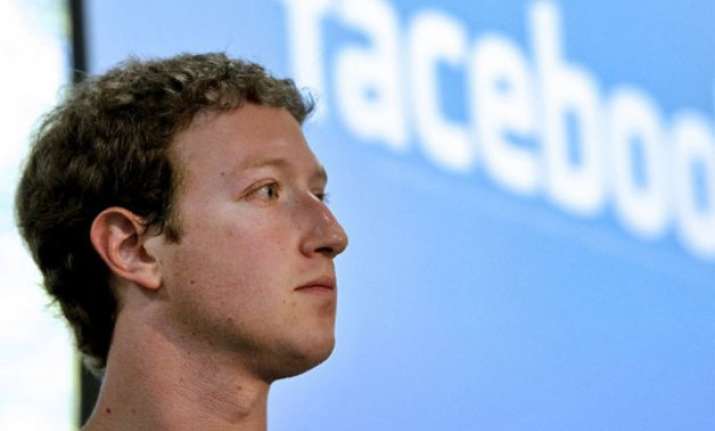 New Delhi: Soon after a Facebook official was forced to retract his offensive tweet on India over TRAI's decision to endorse net neutrality, Facebook founder and CEO Mark Zuckerberg put out a statement calling his comment as "deeply upsetting".  
"I want to respond to Marc Andreessen's comments about India yesterday. I found the comments deeply upsetting, and they do not represent the way Facebook or I think at all," Zuckerberg posted on Wednesday.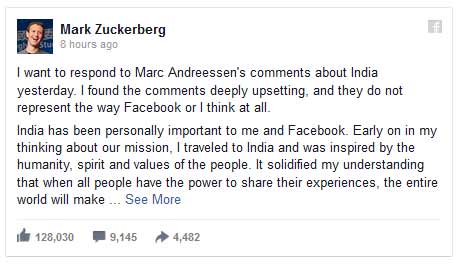 Zuckerberg regarded India as being important to both him and Facebook. "Early on in my thinking about our mission, I traveled to India and was inspired by the humanity, spirit and values of the people" wrote the Facebook giant.
Zuckerberg further also wrote that India solidified his "understanding that when all people have the power to share their experiences, the entire world will make progress".
On Tuesday, Andreessen, a Facebook board member, tweeted "Anti-colonialism has been economically catastrophic for the Indian people for decades. Why stop now?".

It was immediately deleted by him when it started receiving continuous backlash from Indians on both Twitter and Facebook, with #EastIndiaCompany trending on Twitter as well.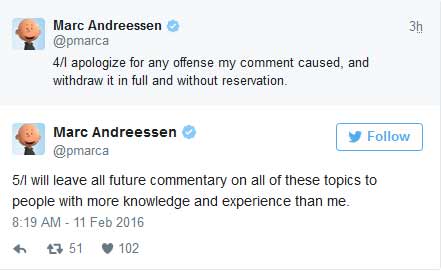 Andreessen later apologised in a series of tweets saying "I hereby withdraw from all future discussions of Indian economics or politics.." and "will leave all future commentary on all of these topics to people with more knowledge and experience than me".
On Monday, TRAI said in a much-awaited regulatory order that "No service provider shall offer or charge discriminatory tariffs for data services on the basis of content."
"No service provider shall enter into any arrangement, agreement or contract, by whatever name called, with any person, natural or legal, that has the effect of discriminatory tariffs for data services being offered or charged to the consumer on the basis of content," the watchdog added.
Reacting to the TRAI order, Facebook said it was "disappointed with the outcome", but will continue its "efforts to eliminate barriers and give the unconnected an easier path to the Internet".
"While I am disappointed with the decision, I want to personally communicate that we are committed to keep working to break down barriers to connectivity in India and around the world. Internet.org has many initiatives, and we will keep working until everyone has access to the internet," Zuckerberg had posted on Facebook.