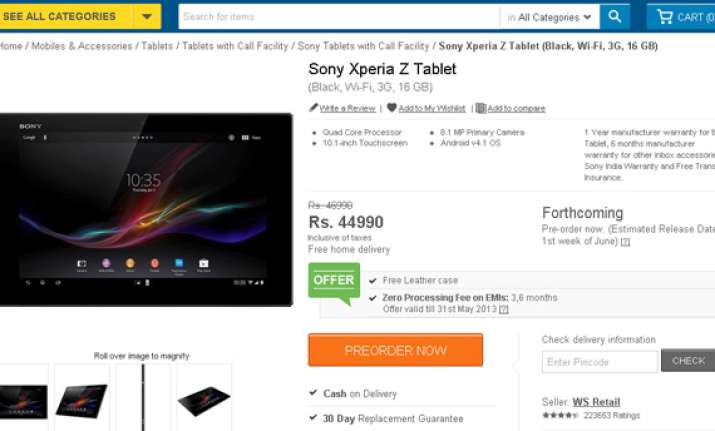 New Delhi, May 24: Certain online retailers in India have put Sony Xperia Tablet Z up for pre-order for Rs 45,000. These websites show that the tablet will start shipping in the first week of the next month or as early as June 3.
The Sony Xperia Tablet Z comes with a 10.1-inch touchscreen, quad-core Qualcomm Snapdragon S4 Pro processor, 8.1 MP primary camera, and 2GB of RAM. The tablet has 16GB of internal memory and allows further expansion to 32 GB with the help of a microSD card. The device runs on Android v4.1 operating system.
The 10.1-inch TFT capacitive touchscreen of Tablet Z is powered by Bravia Engine 2 which is capable of delivering images in 1920 x 1200p resolution. It has a shatter-proof sheet on top and claims to withstand water and dust too. The 8.1 MP of tablet's camera is equipped with Exmor R sensor, LED flash, 16x digital zoom and full HD video recording amongst others.
The tablet comes with a beefy battery of 6000mAh capable of coughing up video playback time of about 9 hours. The Sony Xperia Tablet Z measures 266 x 172 x 6.9 millimeters which tips the scales at 495 grams.
Key specifications of the Sony Tablet Z:
- 10.1-inch capacitive touchscreen with Bravia Engine 2
- Resolution: 1920 x 1200p
- Android Jelly Bean 4.1
- 1.5GHz quad core Qualcomm Snapdragon S4 Pro processor
- 8.1MP camera, 2.2MP webcam
- 2GB of RAM
- 6000mAh battery.