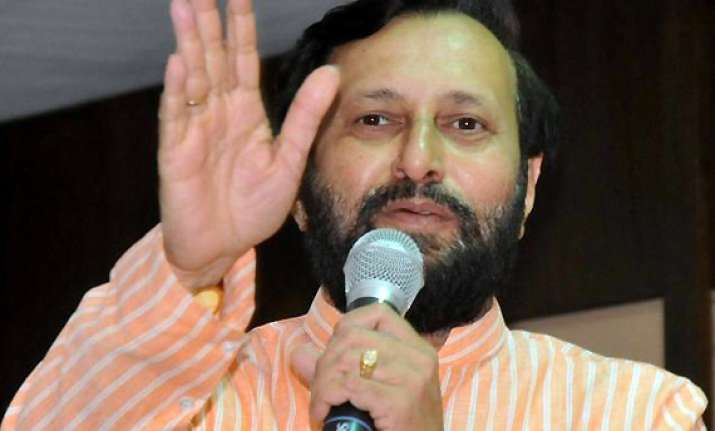 New Delhi, Jan 12: Accusing the government of being "hell-bent" on reducing the rate of interest on EPF, the BJP today said it will not accept any decision by the Finance Minister over its demand of 9.5 per cent interest. 

"The government is hell-bent on reducing the rate of interest on EPF as it does not want to pay more than 8.5 per cent interest. BJP demands 9.5 per cent rate of interest on EPF. It should not be brought down to 8.5 per cent. We will oppose it," BJP spokesperson Prakash Javdekar told reporters.

He said the BJP will not allow Finance Minister Pranab Mukherjee to have a final say on the issue, as he had nothing to do with the Fund which was the contribution of employees, poor labourers and workers.

Javdekar said the EPF rate is decided between the employee unions and government representatives, but the government representative stated the decision would be taken by the Finance Minister.

"How can Finance Minister, who doesn't pay a single paise to this fund, take a decision...? How can his decision be final? It is hard-earned money of the employees and alongwith employers' contribution."

He said there are more than five crore contributors to the Employees Provident Fund (EPF) and their contribution has increased and so have the establishments and employees' and employers' contribution.

"The total investible funds have increased, income from investments have increased. Why then you are giving less interest rate? This is the right of the workers and BJP wants nothing less than 9.5 per cent rate," he said. 

Javdekar suggested "if required, the government which boasts for high growth, must pay from its pocket to achieve that end of 9.5 per cent interest...Why not utilise the idle funds lying in the Fund? Why not use these funds for the welfare of the labour? We will not accept the FM's verdict.  Unions must approve it instead."

The BJP leader said at least one crore new subscribers were added to the Fund and provident fund base has increased.  BJP will not allow any such loot of the money of poor employees.

"There is more than Rs 15,000 crore of unaccounted money lying in the fund. Why should the government take it away? If one per cent rate of interest is increased, it costs Rs 5,000 crore. Government which talks about inclusive growth, then why can it not contribute Rs 5,000 crore?", he wondered.