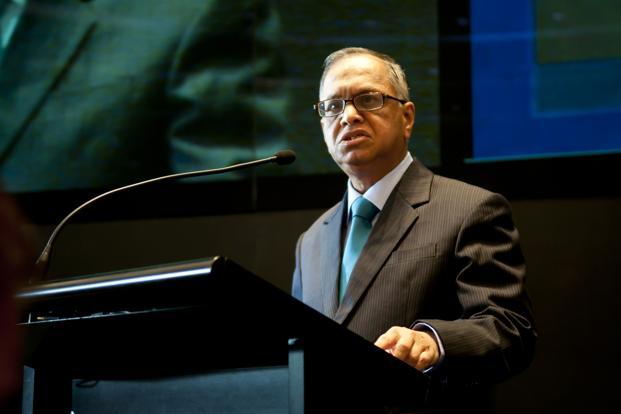 Former Infosys board member Omkar Goswami has come out openly in support of former CEO and Managing Director Vishal Sikka and slammed founder NR Narayana Murthy warning him not to "mortally wound" the organization any further.
In an open letter to Murthy penned in the Economic Times, Goswami, who serves as a current member of its business process outsourcing (BPO) unit, said:
"Your actions have de-facto created a crisis that has forced the exit of a CEO, led to a stupendous 9.6 percent drop in the share price, and a loss in market capitalisation of over Rs 22,600 crore in one trading day, and initiated the process of class-action suits in the US. Despite my friendship with you and the tradition that most directors strive to follow where board matters remain within the board, I have finally decided to come out in the open."
Goswami, an Infosys Board member from 2000-2015, then goes on to briefly explain the events that led to the resignation of Chief Executive Vishal Sikka on August 18.
He also takes a jibe at former Chief Financial Officer V Balakrishnan and former heard of human resources Mohandas Pai, saying that each ex-independent director of the board was "deeply upset" by their and Murthy's public conduct.
In a letter filed to the bourses on Friday, the day of Sikka's resignation, the board blamed Murthy's "continuous assault" as the primary reason for the exit of Infosys' first non-promoter CEO in its history. The letter also said that Sikka had the Board's full support.
Explaining how how the Board agreed to most of Murthy's demands over the last year, Goswami pointed out instances including freezing former CFO Rajiv Bansal's huge severance pay at 30 per cent of the agreed amount; appointing ex-Infoscian DN Prahlad and a relative of Murthy's, to the Board; investigating the USD 200 million acquisition of Israeli software firm Panaya, and appointing Ravi Venkatesan as Co-Chairman of the Board.
"The Panaya report absolved the management of wrongdoings, and its basic conclusions were disseminated to the public. My first question: would you have posted the full report if you were running Infosys? You wouldn't, as you didn't in instances that needed detailed investigation.
"You then wanted a Co-chairman who met with your approval. Here, too, the board complied by elevating Ravi Venkatesan. By accommodating you, it created a fiduciary eccentricity of three different people at the top: a chair, a co-chair and a managing director and CEO," Goswami says.
He further says that all these actions will affect the high regard for the governance standards of Infosys, and that Murthy would lose respect of the board members and former board directors.
"Enough is enough. You have drawn first blood. Do not mortally wound the organisation by persisting in your actions. Let Infosys get on with its business, heal itself from the injuries that you have inflicted and again grow shareholder value. Learn to walk away, as you had promised when handing the reins to Vishal. The corporate governance halo that was conferred upon you is shrinking. Let it not disappear," he added.