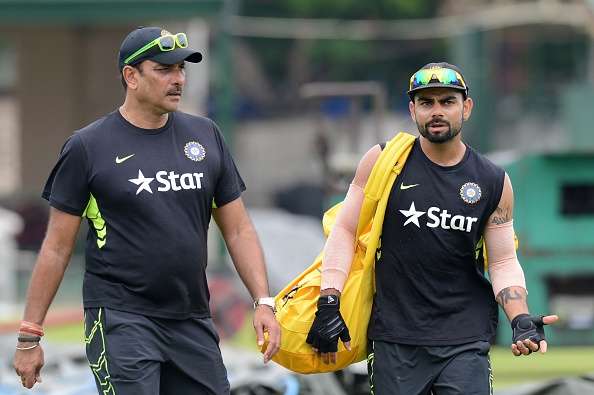 Former India Team Director Ravi Shastri will apply for the Indian team's head coach's job - a position which was lying vacant since Anil Kumble stepped down on June 20 blaming a breakdown in his relationship with captain Virat Kohli for his exit. Speaking to India TV, Shastri confirmed the development, saying he will soon apply for the coveted job. The 55-year-old former captain served as the Director of the Indian team between 2014 and 2016 where he led the team to the semi-finals of the 2015 World Cup in Australia and New Zealand. Under his observation, India also reached the semi-finals of the 2016 World T20 at home and Virat Kohli's Test side won an away Test series against Sri Lanka after 22 years.
Shastri was appointed as the team director in August, 2014 and remained in the position till the completion of the World T20 in April, 2016.
Shastri had also applied for the head coach's role in 2016 but was pipped by former India captain Kumble, who came out as the preferred choice of the Cricket Advisory Committee (CAC), which includes Sachin Tendulkar, Sourav Ganguly and VVS Laxman. Shastri had a showdown with Ganguly in 2016 after his candidature was rejected. Ganguly reasoned that the applicant for an important job like the India team coach must be present in person during the interview. Shastri, on the other hand, had accused Ganguly of not being present when he had given his interview via skype.
Kumble spent a year as in charge of the Indian cricket team and his contract as coach ended with the conclusion of the ICC Champions Trophy 2017. BCCI didn't extend Kumble's contract despite his outstanding record with the team, however, it offered him an extension till the West Indies tour, which was duly declined by the legendary leg-spinner.
Last week, the board decided to invite more applications for the post of to give the CAC a wide range of options for picking a suitable candidate. Shastri will join Virender Sehwag, Tom Moody, Lalchand Rajput, Richard Pybus and Doda Ganesh - who have already applied for the position.
With Shastri throwing his hat into the ring, it will now be a difficult task for the trio of Tendulkar, Ganguly and Laxman to overlook the former all-rounder this time as he shares a cordial relationship with Kohli and also with some of the other young Indian players.