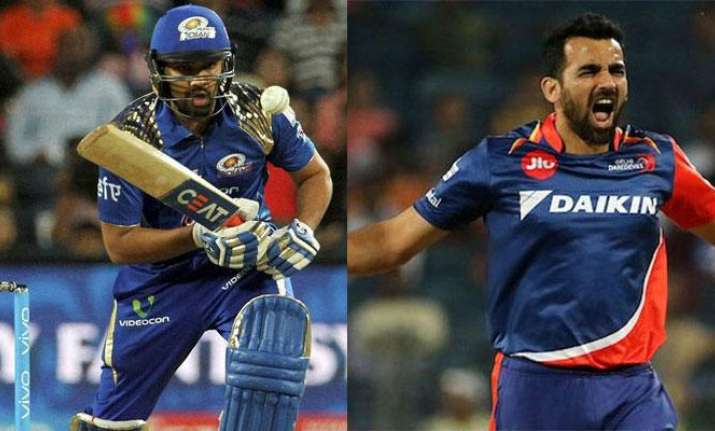 Mumbai Indians defeated Delhi Daredevils by 14 runs in their Indian Premier League (IPL) 2017 tie at a jampacked Wankhede Stadium here on Saturday.
Asked to bat first by the visitors, Mumbai posted 142/8 in their allotted 20 overs and then produced a superb bowling performance to restrict Delhi to 128/7 despite a tough challenge from Kagiso Rabada and Chris Morris.
Coming together when Delhi was reeling at 24/6, Rabada and Morris added 91 runs between them.
Rabada scored 44 runs off 39 balls before being bowled by Jasprit Bumrah.
Morris was the highest scorer among the Delhi batsmen, remaining unbeaten on 52 off 41 balls.
Highlights: 
* 18.4: WICKET! K Rabada (44) is out, b Jasprit Bumrah, 115/7 
* 6.3: WICKET! K Nair (5) is out, b Hardik Pandya, 24/6
* 5.3: WICKET! R Pant (0) is out, c Harbhajan Singh b Jasprit Bumrah, 21/5 
* 3.6: WICKET! C Anderson (0) is out, lbw Mitchell McClenaghan, 21/4
* 3.3: WICKET! S Iyer (6) is out, c Parthiv Patel b Mitchell McClenaghan, 20/3
* 1.2: WICKET! S Samson (9) is out, c Rohit Sharma b Mitchell McClenaghan, 10/2
* 0.4: WICKET! A Tare (0) is out, run out (Hardik Pandya), 1/1 
* 19.4: C Morris to M Johnson, 4 runs, 139/8
* 17.1: WICKET! K Pollard (26) is out, c Sanju Samson b Pat Cummins, 120/6
* 12.4: WICKET! K Pandya (17) is out, c Rishabh Pant b Amit Mishra, 84/5
* 8.1: WICKET! RG Sharma (5) is out, c Pat Cummins b Amit Mishra, 60/4
* Wicket! 5.1: J Buttler (28) is out, run out (Sanju Samson), 47/2 
* Wicket! 3.6: P Patel (8) is out, b Kagiso Rabada, 37/1
Teams:
Mumbai Indians: Rohit Sharma (Captain), Parthiv Patel (WK), Jos Buttler, Nitish Rana, Hardik Pandya, Kieron Pollard, Krunal Pandya, Mitchell Johnson, Harbhajan Singh, Mitchell McClenaghan, Jasprit Bumrah
Delhi Daredevils: Aditya Tare, Sanju Samson, Shreyas Iyer, Karun Nair, Rishabh Pant (WK), Corey Anderson, Chris Morris, Pat Cummins, Amit Mishra, Kagiso Rabada, Zaheer Khan (Captain).
* Delhi win toss, elected to bowl